Apple recently launched it mixed/augmented reality headset, Vision Pro, at its 2023 Worldwide Developers Conference.The Vision Pro headset is Apple's spatial computer that seamlessly blends digital content with the physical world while allowing users to stay present and connected to others. 1
"Today marks the beginning of a new era for computing, Just as the Mac introduced us to personal computing, and iPhone introduced us to mobile computing, Apple Vision Pro introduces us to spatial computing.- Tim Cook, Apple's CEO. 
What is Spatial Computing?
Former Aesthetics and Computation group at the MIT Media Lab,  Simon Greenwold, defined Spatial computing is human interaction with a machine in which the machine retains and manipulates referents to real objects and spaces. It is an essential component for making our machines fuller partners in our work and play. 2
The Vision Pro creates an infinite canvas for apps that scales beyond the boundaries of a traditional display and introduces a fully three-dimensional user interface controlled by the most natural and intuitive inputs possible — a user's eyes, hands, and voice.
Features of the Apple Vision Pro
visionOS, the world's first spatial operating system,
 ultra-high-resolution display system that packs 23 million pixels across two displays,
Vision Pro lets users interact with digital content in a way that feels like it is physically present in their space.
custom Apple silicon in a unique dual-chip design to ensure every experience feels like it's taking place in front of the user's eyes in real time.
An infinite canvas for apps at work and at home:
visionOS features a three-dimensional interface that frees apps from the boundaries of a display so they can appear side by side at any scale.
An infinite canvas for apps at work and at home:
visionOS features a three-dimensional interface that frees apps from the boundaries of a display so they can appear side by side at any scale.
Engaging entertainment experiences: 
– With two ultra-high-resolution displays, Apple Vision Pro can transform any space into a personal movie theatre with a screen that feels 100 feet wide and an advanced Spatial Audio system.
– Users can watch movies and TV shows, or enjoy stunning three-dimensional movies. Apple Immersive Video offers 180-degree high-resolution recordings with Spatial Audio, and users can access an exciting lineup of immersive videos that transport them to entirely new places.
Immersive Environments: 
– With Environments, a user's world can grow beyond the dimensions of a physical room with dynamic, beautiful landscapes that can help them focus or reduce clutter in busy spaces. A twist of the Digital Crown lets a user control how present or immersed they are in an environment.
Memories come alive:
– Featuring Apple's first three-dimensional camera, Apple Vision Pro lets users capture, relive, and immerse themselves in favourite memories with Spatial Audio. Every spatial photo and video transports users back to a moment in time, like a celebration with friends or a special family gathering.
FaceTime becomes spatial: 
With Apple Vision Pro, FaceTime calls take advantage of the room around the user, with everyone on the call reflected in life-size tiles, as well as Spatial Audio, so it sounds as if participants are speaking right from where they are positioned. Users wearing Vision Pro during a FaceTime call are reflected as a Persona — a digital representation of themselves created using Apple's most advanced machine learning techniques — which reflects face and hand movements in real time.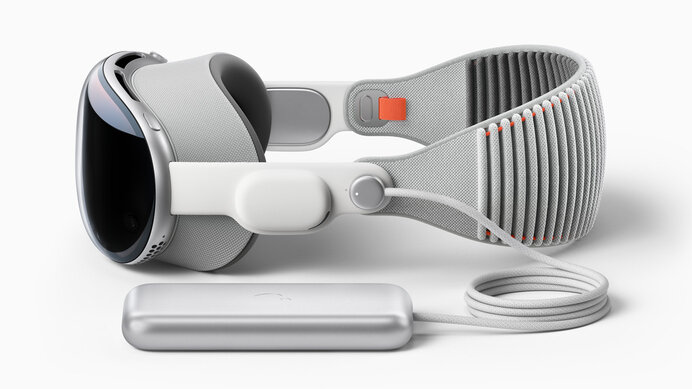 Apple Vision Pro EyeSight
–  EyeSight, an extraordinary innovation that helps users stay connected with those around them. When a person approaches someone wearing Vision Pro, the device feels transparent — letting the user see them while also displaying the user's eyes. When a user is immersed in an environment or using an app, EyeSight gives visual cues to others about what the user is focused on.
Price
The Apple Vision Pro starts at 
$3,499 
(U.S.) and will be available early next year on
apple.com
 and at Apple Store locations in the U.S., with more countries coming later next year.
The Vision Pro headset seems to look very great for the first iteration of a product as compared to AR headset of Meta Oculus. The Vision Pro is a great leap in spatial computing and the beginning of the end of screens as we know it.