The Statista Facebook Marketing Dossier provides statistical information about Facebook marketing, Social Media Marketing, digital advertising, key data points on Facebook (now Meta), and the benefits of using the Meta platform to reach a wider audience
Facebook is the most popular social network worldwide, outperforming every other contester for reach and active users. After nearly two decades of constant growth, the number of Facebook users is on track to reaching the three-billion threshold, providing a wealth of opportunities for brands and businesses of all sizes. Facebook marketing has become a staple in nearly every social media marketer's playbook, and in 2020, Facebook's advertising revenue surpassed 84 billion U.S. dollars.
Key Takeaways
Social media advertising spending worldwide from 2017 to 2026, by device (in billion U.S. dollars)
Social media ad spending worldwide 2017-2026, by device
In 2021, the global social media advertising market was valued at 181.2 billion U.S. dollars. Desktop accounted for roughly 35 billion and mobile for approximately 146 billion. By 2026, the total value of the market is expected to increase to 358 billion U.S. dollars.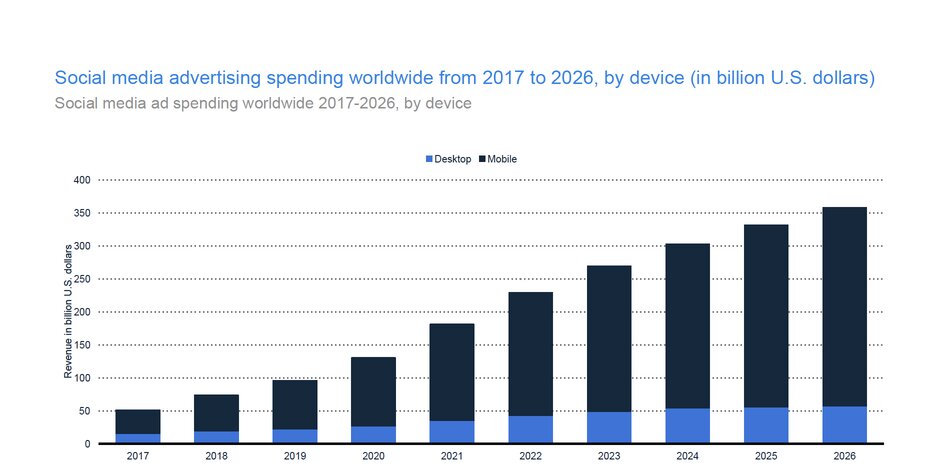 In 2021, the global social media advertising market was valued at 181.2 billion U.S. dollars.
Meta's (formerly Facebook Inc.) advertising revenue worldwide from 2009 to 2021 (in million U.S. dollars) – Meta: advertising revenue worldwide 2009-2021
In 2021, Meta (formerly Facebook Inc) generated 114.93 billion U.S. dollars in ad revenues. Advertising accounts for the vast majority of the social network's revenue.
Facebook's business model heavily relies on ads, as the majority of social network's revenue comes from advertising. In 2020, about 97.9 percent of Facebook's global revenue was generated from advertising, whereas only around two percent was generated by payments and other fees revenue. Facebook ad revenue stood at close to 86 billion U.S. dollars in 2020, a new record for the company and a significant increase in comparison to the previous years. For instance, the social network generated almost seven billion U.S. dollars in ad revenue in 2013, about 10 billion less than the 2015 figure.
In 2020, about 97.9 percent of Facebook's global revenue was generated from advertising.
Facebook's average revenue per user also significantly increased in the same time span, going from 6.81 U.S. dollars in 2013 to 32.03 U.S. dollars in 2020.
In terms of segments, mobile is the most promising advertising form for the company. In 2018, Facebook's mobile advertising revenue already accounted for 92 percent of the social network's total advertising revenue. Facebook's mobile advertising revenue grew from an estimate of 13 billion U.S. dollars in 2015 to 50.6 billion U.S. dollars in 2018.
Leading social media platforms used by marketers worldwide as of January 2021
Social media platforms used by marketers worldwide 2021
As of January 2021, Facebook was the most commonly used social media platform among marketers worldwide. According to a global survey, 93 percent of responding social media marketers used the network to promote their business, while another 78 percent did so via Instagram.
Benefits of Social Media Marketing
Over the past few years, social media marketing has become one of the most popular and successful forms of digital marketing. Thanks to the massive userbases of networks like Facebook and Instagram, advertisers can reach billions of potential customers at the click of a mouse. Among the many benefits of using social media platforms for business purposes, industry professionals particularly value the increased exposure for their brands and products, as well as the increased traffic on their websites.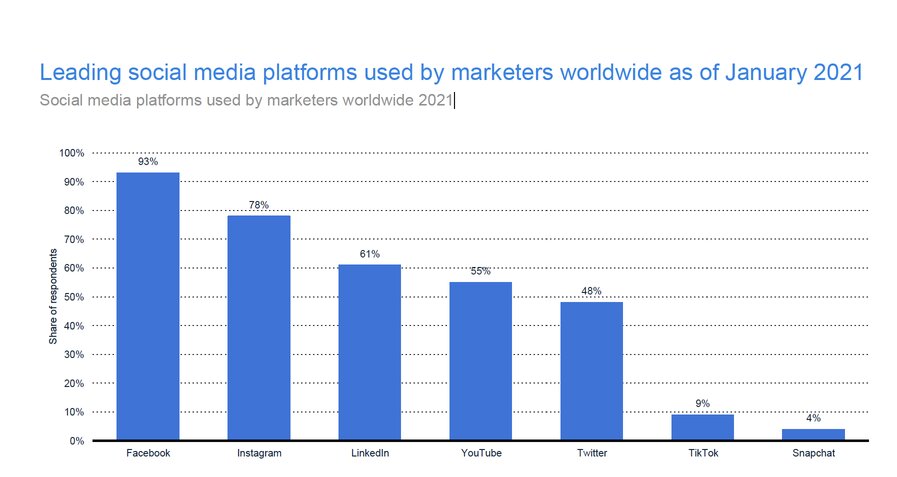 Facebook remains the most important social media platform for many marketers With an active user count of close to 2.8 billion; Facebook is the most popular social network worldwide.
Leading video calling platforms used for virtual experiences in 2020
During a 2020 survey carried out among 100 companies managing approximately 20,000 yearly annual online events worldwide, 50.3 percent of respondents said they used Zoom as a platform for their online experiences. Microsoft Teams came in second with 12 percent, while Facebook Live rounded out the top three with 9.4 percent.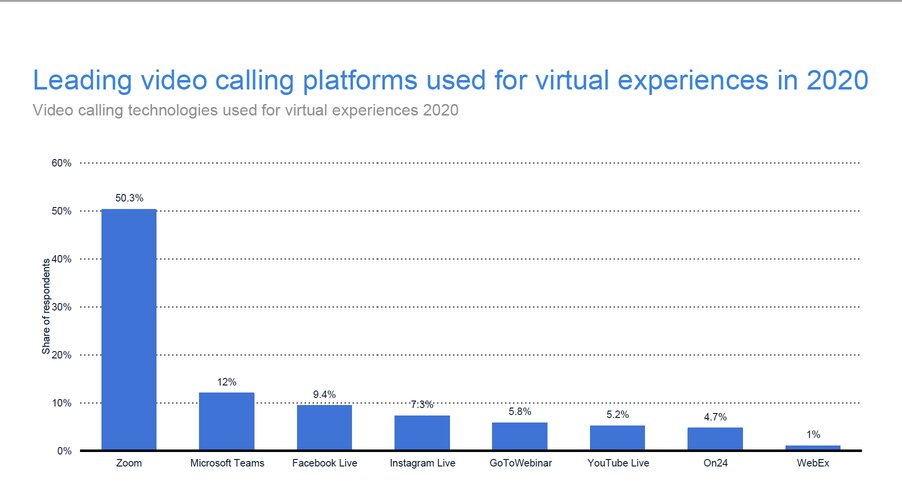 Source: The State of Virtual Events 2021
Average number of weekly brand posts on Facebook in 2020, by vertical
In 2020, the average number of weekly brand posts on Facebook was of 5.5 across all examined verticals.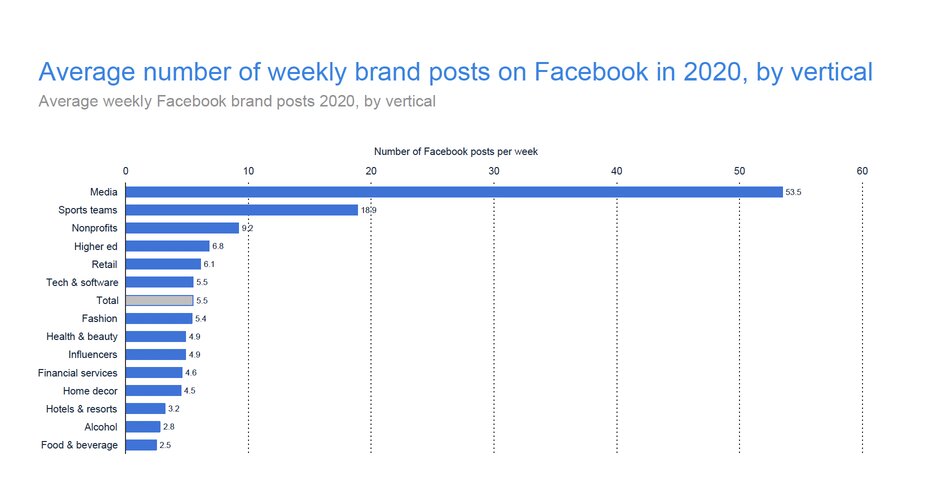 The leading media brands produced an average of 53.5 posts to their social network every week. In contrast, food and beverage brands generated an average of 2.5 posts on a weekly basis.
How does Facebook compare with other social media among marketers?
The majority of marketers indicate that Facebook is the most important social platform for their business, with a staggering 40 percent lead over LinkedIn and even Facebook's own platform – Instagram. However, with recent data breaches, Facebook has seen some decrease in growth. Its position is still strong enough that marketers increase their spending on the social network. However, Instagram seems to be overtaking the older brother, and more industry professionals are planning to increase investments in the photo-sharing platform than in Facebook.
Facebook CPC
CPCs vary depending on the advertising campaign's objective . If the aim is as simple as gaining post engagement, then CPCs are the least expensive. However, the more complex the objective, the higher the cost per click gets. The most expensive is app installs, which means that advertisers need to pay 0.3 U.S. dollars per click that leads to customers installing apps, compared to 0.02 U.S. dollars for post engagement. Brand awareness, page likes, reach and conversions are in the middle of the spectrum. All in all, after a spike in advertising costs in third quarter of 2017, when Facebook CPCs grew by 282 percent year-on-year, the company's ad rates were being increasingly lowered thanks to their improved targeting and growing engagement.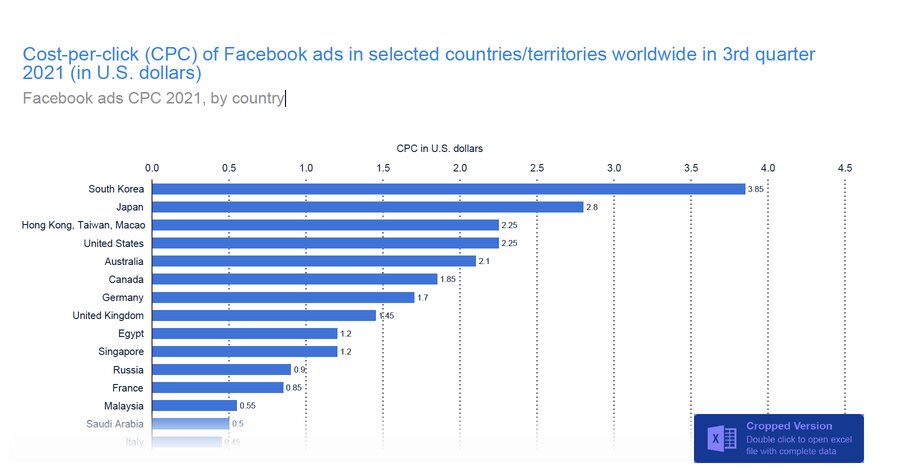 Cost per click (CPC) (also called pay per click) is an internet advertising model used to direct traffic to websites, where advertisers pay the publisher (typically a website owner) when the ad is clicked.
Facebook advertising
Facebook advertising influence extends beyond social media – the company consistently ranks among the U.S. media companies with the biggest advertising revenues. Google is the only digital competitor with more ad revenue, but Facebook ranks miles ahead of traditional media juggernauts such as Disney, Fox, and Viacom.
Leading media companies worldwide in 2020, ranked by advertising revenue (in billion U.S. dollars)
In 2020, Google was the largest media company worldwide, with advertising revenues of nearly 132 billion U.S.dollars. Advertising revenue of Bytedance – the owner of TikTok – amounted to 28 billion U.S. dollars, placing it on place four in the global ranking. Bytedance managed to beat Amazon, as well as Disney, Tencent, and other top players in the media industry.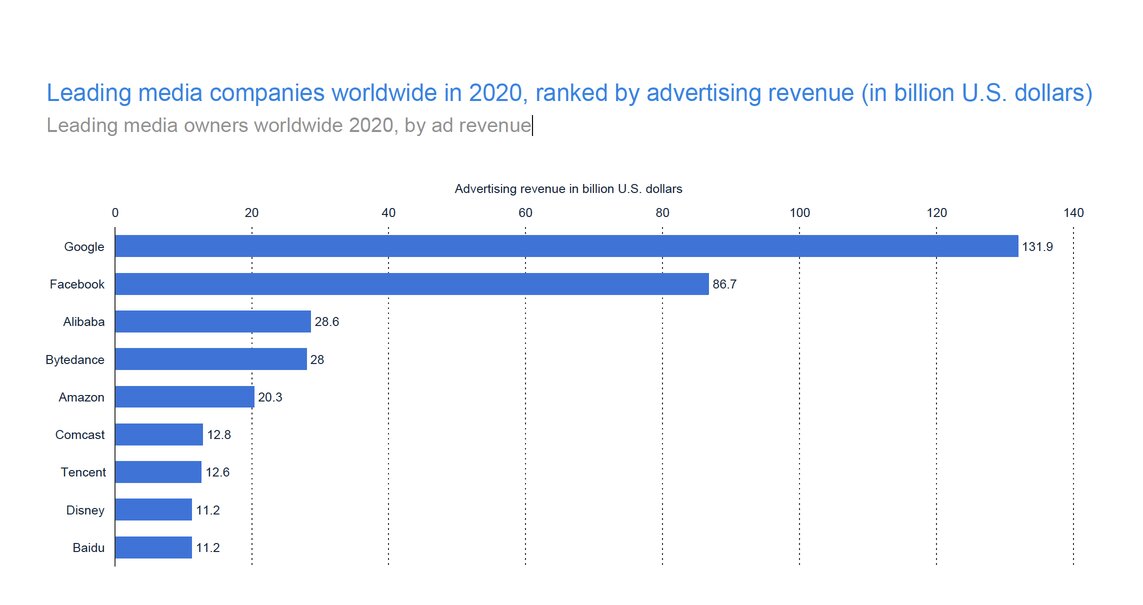 Number of monthly active Facebook users worldwide as of 1st quarter 2022 (in millions)
Facebook: number of monthly active users worldwide 2008-2022
How many users does Facebook have?
With roughly 2.93 billion monthly active users as of the first quarter of 2022, Facebook is the most used online social network worldwide. The platform surpassed two billion active users in the second quarter of 2017, taking just over 13 years to reach this milestone.
In comparison, Meta-owned Instagram took 11.2 years, and Google's YouTube took just over 14 years to achieve this landmark. As of January 2022, Facebook's leading audience base was in India , with almost 330 million users whilst the United States ranked second with an approximate total of 179 million users. The platform also finds remarkable popularity in Indonesia and Brazil.
Meta is Facebook's recently renamed parent company and had a grand total of 3.59 billion core product users by the final quarter of 2021. Other Meta products include Instagram, Facebook Messenger, WhatsApp and Oculus – Meta's virtual reality subsidiary which produces VR headsets.
In 2021, Meta's revenue amounted to 117 billion US dollars, up from around 86 billion U.S. dollars in the previous financial year.
Founded in 2004 and going public in 2012, Facebook is one of the biggest internet companies in the world, with influence that goes beyond social media. It is widely considered as one of the Big Four tech companies, along with Google, Apple, and Amazon (altogether known under the acronym GAFA). Facebook is the most popular social network worldwide, and the company also owns three other billion-user properties: mobile messaging apps WhatsApp and Facebook Messenger, as well as the photo-sharing app Instagram.
Need help with developing a digital strategy for your business? Get in touch.