The seventh edition of the Salesforce State of Marketing report: Insights and trends from over 8,200 global marketers engaging customers from anywhere, is based on a survey of over 8,200 marketers across 37 countries. The report offers a snapshot of how strategic priorities and challenges, marketing tactics, and technology are transforming against a backdrop of economic and social change.
Salesforce Research surveyed over 8,200 marketing leaders worldwide to discover:
• Which shifts have occurred in marketing strategies, priorities, and challenges during recent economic and social turbulence
• The current state and trajectory of marketing's digital transformation
• Trends in marketing data management
• How collaboration is changing as many teams operate remotely
The top five trends according to salesforce data are:
Marketers Embrace Change with Optimism
Emerging from a time of great upheaval, marketers are focused on a future of innovation and real-time engagement. Sixty-six percent of marketers expect revenue growth over the next 12 to 18 months.
2. As Customers Go Digital, Marketing Steps Up
After years' worth of changes in customer behavior occurring over the course of months, marketers are accelerating their digital transformations. Ninety percent of marketers say their digital engagement strategy has changed since the pandemic began.
3. Collaboration Drives the Market-from-Anywhere Era
No longer tied to offices, a distributed workforce is reevaluating how they engage not only customers, but each other. Seventy-five percent of marketers say the pandemic has permanently shifted how they collaborate and communicate at work.
4. Marketing Is Spelled D-A-T-A
Data empowers marketers to deliver the trusted, personalized engagement customers expect, but managing it is only becoming more complex. Marketers expect a 40% increase in the number of data sources they use between 2021 and 2022.
5. Metrics and KPIs Continue to Evolve
As their work becomes more strategic and valuable for the business at large, marketers are reevaluating what successful marketing looks like. Seventy percent of CMOs align their KPIs with their CEO's.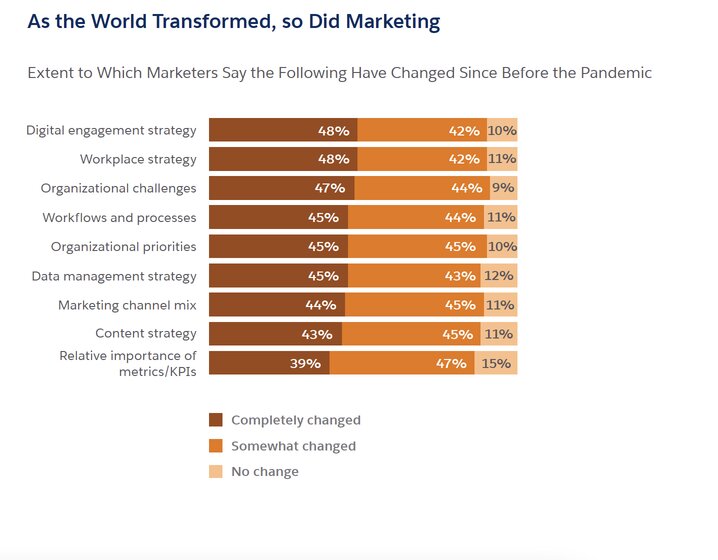 Marketers Embrace Change with Optimism
Marketers — as is true for businesses in general — are experiencing change at unprecedented scale and speed. Rocked by a pandemic and all of its effects on customer expectations and behaviors, marketers are rethinking everything from the channels they use to how they define success.
What's more, marketers see themselves as having a bigger role in driving that growth; 77% of marketers feel their work provides greater value now than it did a year ago.
Eighty-eight percent of CMOs say their marketing must transform in order to be competitive.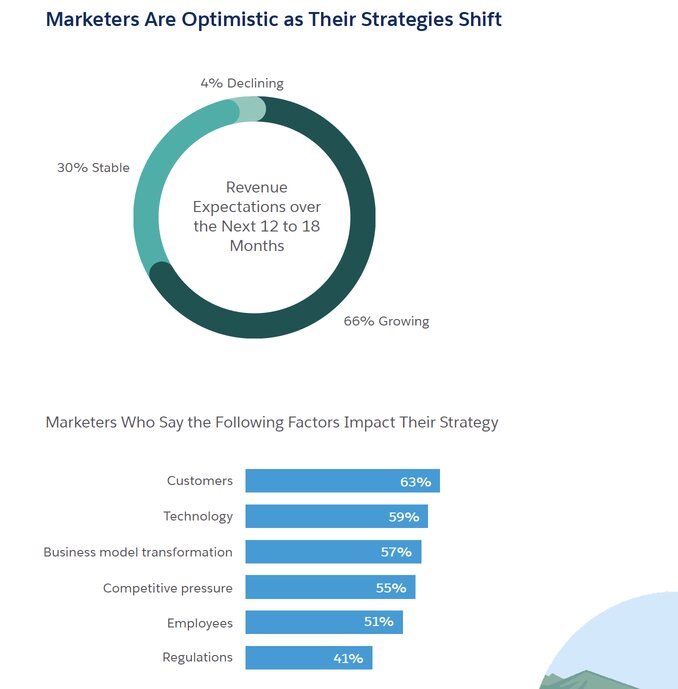 Advertising, technology, content, and events all consume similar portions of marketing budgets, along with the costs associated with wages and training. For B2B marketers, the added imperative of account-based marketing (ABM) programs adds another line item.
2. As Customers Go Digital, Marketing Steps Up
Change may be afoot for marketers, but at least one tenet remains the same: customer experience as the North Star.
80% of customers agree the experience a company provides is as important as its products or services.
Eighty percent of marketers say customer experience is the key competitive differentiator.
Seventy-two percent of marketers say meeting customer expectations is more difficult than a year ago.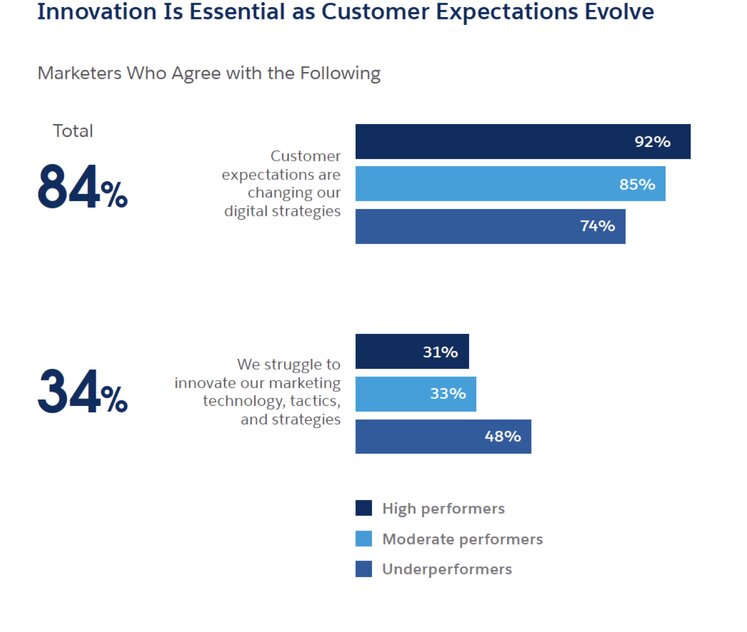 Central to changing customer expectations is the swift and substantial migration to digital channels that will persist for the long term.
Sixty-one percent of customers expect to spend more time online after the pandemic than they did before.
Eighty-eight percent of customers expect companies to accelerate digital initiatives due to COVID-19.
Sixty-nine percent of customers say companies should offer new ways to get products and services due to COVID-19.
Digital channels have solidified their central role in marketers' toolkits; social media, digital ads, and video round out the three most common means of reaching customers.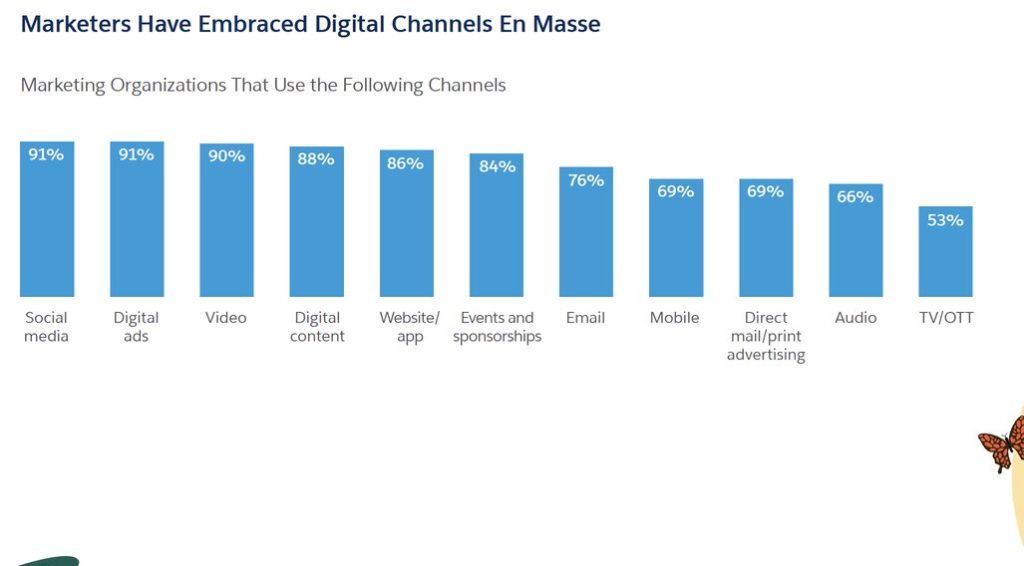 Even those digital channels that may have been classified as emerging in recent years are seeing mass adoption. Mobile messaging, for instance, is used by 69% of marketers, and nearly two-thirds of organizations use audio media like podcasts and streaming ads.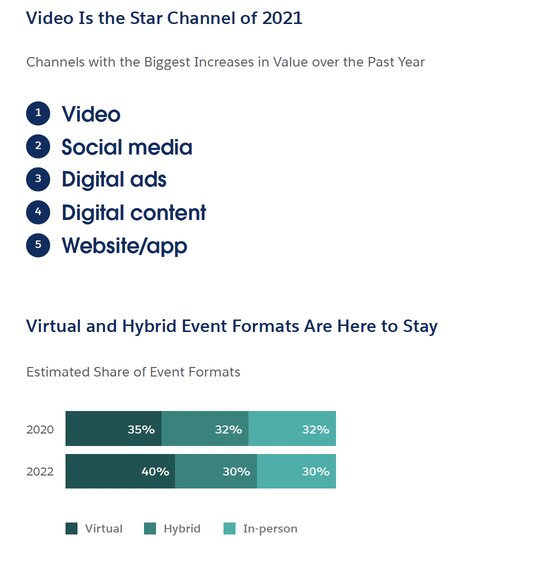 Ninety percent of marketers say their digital engagement strategy has changed since before the pandemic, and 89% say their marketing channel mix has changed.
Video, from YouTube to TikTok to Twitch, has been especially lauded by marketers over the past year, with social media and digital ads such as display following closely behind. Even what could arguably be called the most analog channel of all — events and sponsorships — is going digital, with marketers expecting the trend toward virtual and hybrid event formats to carry into 2022.
3. Collaboration Drives the Market- from-Anywhere Era
82% of marketing organizations are adopting new policies around remote work.
Like many changes made over the course of 2020 and 2021, this shift to working from anywhere is not going away, although the extent to which it will stick varies by region. The majority of marketers in the U.S. and Canada, for example, expect to return to the office full time, yet over a third of them expect to work in a hybrid environment. That's in striking contrast to marketers in the Middle East and Africa where less than one-third expect to work in an office full time.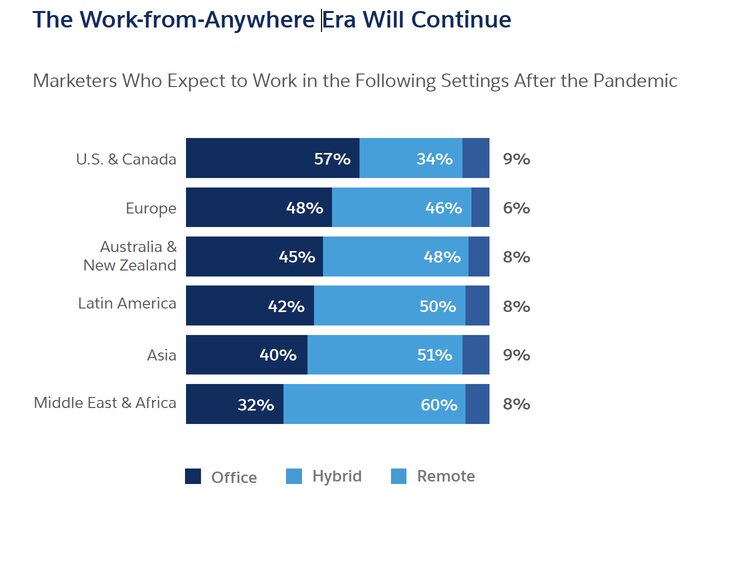 Seventy-five percent of marketers say the pandemic has permanently shifted how they collaborate and communicate at work.
Sixty-nine percent of marketers say it's harder to collaborate now than before the pandemic.
Seventy-eight percent of marketing organizations have adopted new work collaboration technology due to the pandemic.
85% of marketers say they use video conferencing, and 82% say they use channel-based collaboration.
76% of customers expect consistent interactions across departments, but 54% say it generally seems like departments don't share information.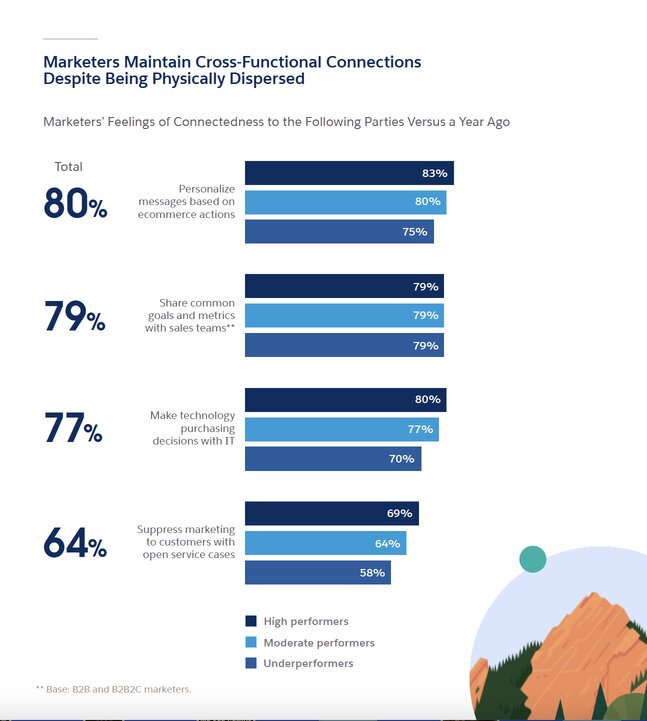 4. Marketing Is Spelled D-A-T-A
Marketers across the board continue to forecast increases in the number of data sources they'll leverage over the coming years, with B2B marketers particularly bullish on the matter. High performers are far and away more likely than underperformers to be content with their ability to use customer data in creating more relevant customer experiences.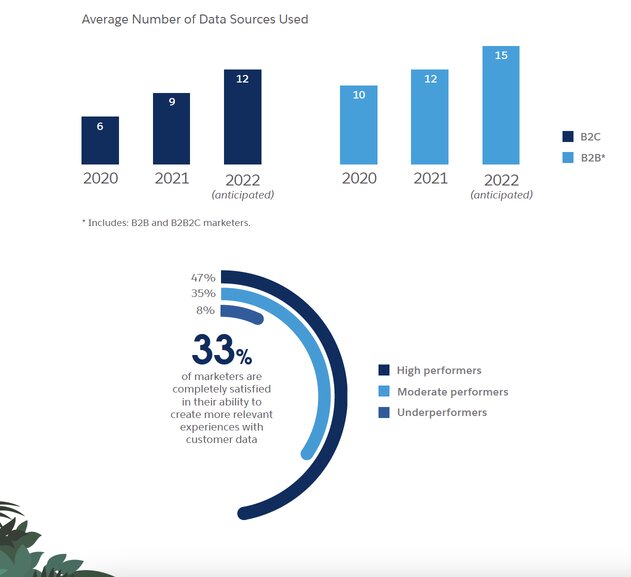 As Apple, Google, and others restrict the use of third-party cookies, however, the relative popularity of data sources is shifting.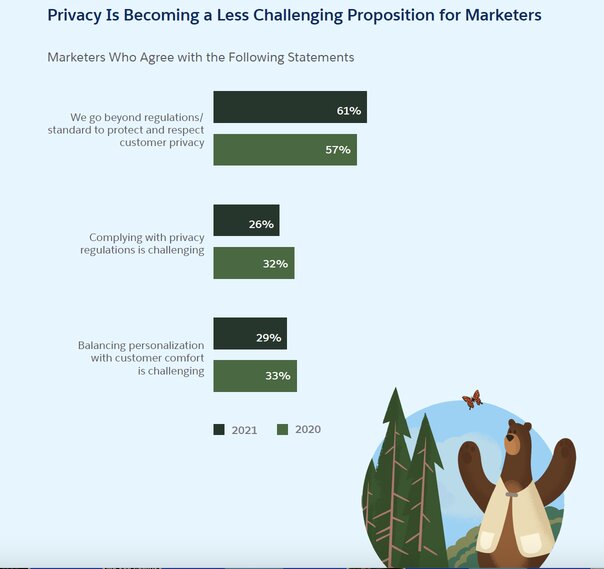 Known digital identities such as email addresses and social IDs are now the most popular customer data sources, followed by transactional data and declared interests and preferences. Offline identities such as postal addresses and anonymized digital identities like cookies and device IDs saw the biggest year-over-year drops in popularity.
Seventy-eight percent of high performers say they use a customer data platform (CDP), versus 58% of underperformers.
Gleaning customer insights and managing customer consent elections — a highly valuable proposition as privacy regulations evolve — are particularly popular. Less common use cases include remarketing — such as o customers who have abandoned their ecommerce carts — or marketing suppression — for example, for customers with an open customer service case who may be unhappy.
5. Metrics and KPIs Continue to Evolve
78% of marketing organizations have changed or reprioritized metrics due to the pandemic.
Revenue and funnel performance remain the foremost metrics for today's marketers. However, marketers have become more KPI-conscious across the board, with customer referral rates, customer acquisition costs, and content engagement seeing the biggest boosts in popularity.
Seventy percent of CMOs align their KPIs with their CEO's.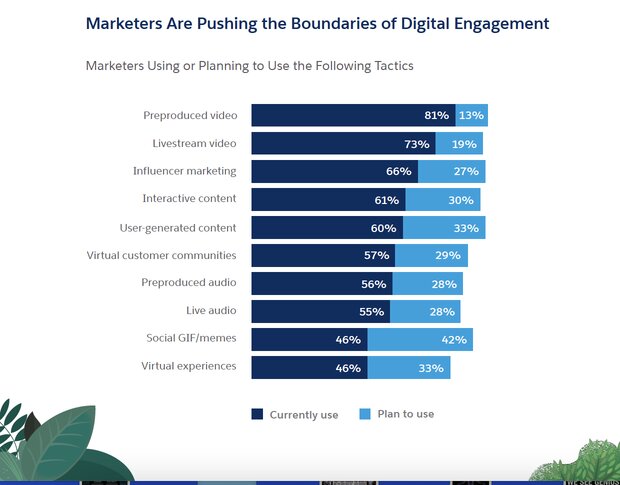 Customer satisfaction metrics such as Net Promoter Scores remain marketers' most helpful measure of success — outranking even revenue and marketing and sales funnel metrics. With customers
and prospects shifting their digital engagement habits, content engagement metrics such as video views and virtual event attendances have also become particularly important. Customer lifetime value (LTV) rounds out the top five — a testament to the importance of keeping existing customers happy — despite being the least tracked metric overall.
As Marketing Evolves, Training Is Falling Behind
Today, marketers need a unique and evolving collection of knowledge that constantly shifts between right- and left-brain mentalities. As such, marketers are questioning whether or not the training they get is truly setting them up for success. Only 44% of marketers rate the employee training they receive as excellent.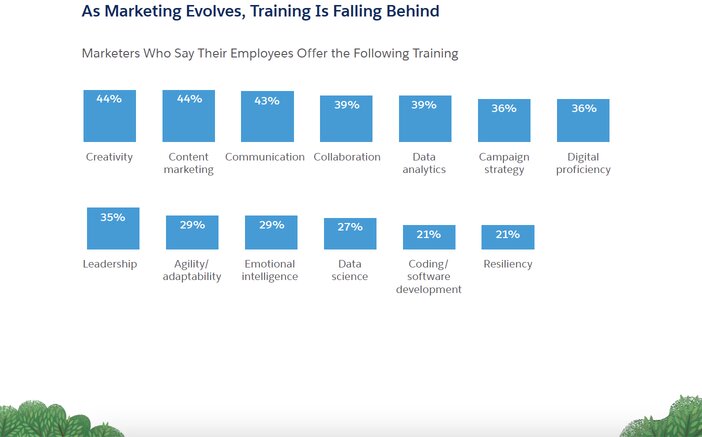 While creativity, content, and communication are the most common elements of marketing organizations' curriculums, they are provided by only a minority of employers. Even less common is training on interpersonal skills like emotional intelligence, the data science that underpins digital customer engagement and attribution, and perhaps the most important skill of all in 2021: resiliency.
Need help with developing a digital strategy for your business? Get in touch.