The Deloitte Insights 2022 Global Marketing Trends report: Thriving through customer-centricity, surveyed executives from five countries through the Global Marketing Trends Executive Survey, polled 11,500 consumers across the globe through the Global Marketing Trends Consumer Survey, in-depth interviews with executives from leading global brands. Deloitte identified seven trends that are customer-centric and a 360-degree view is taken of the solution set The trends are organized into three sections: People, Data, and Experiences.
Macro trends, from integration of digital and physical channels to increasing calls for diversity, are upending the marketing function. What can brands learn from their highest-growth counterparts to thrive?
The seven Deloitte Insights 2022 Global Marketing Trends are: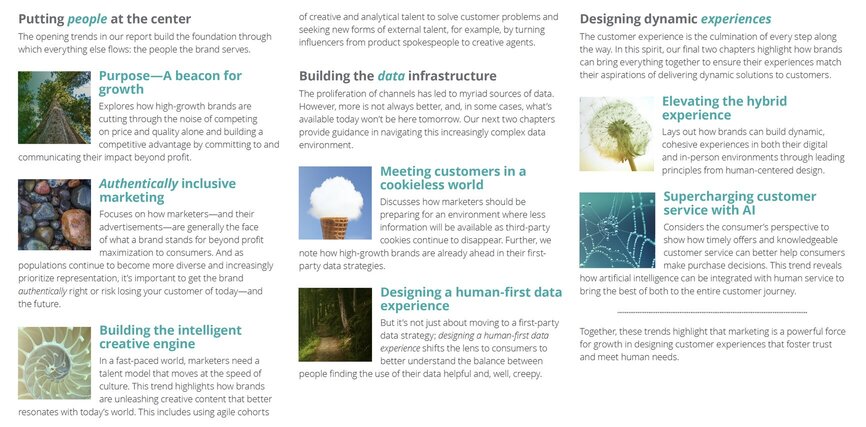 People Section: Putting people at the center
Purpose – A beacon for Growth
How brands can gain a competitive advantage through an authentic purpose
Explores how high-growth brands are cutting through the noise of competing on price and quality alone and building a competitive advantage by committing to and communicating their impact beyond profit

2. Authentically Inclusive Marketing
Focuses on how marketers – and their advertisements – are generally the face of what a brand stands for beyond profit maximization to consumers. And as populations continue to become more diverse and increasingly prioritize representation, it's important to get the brand authentically right or risk losing your customer of today – and the future.
3. Building the Intelligent creative engine
In a fast-paced world, marketers need a talent model that moves at the speed of culture. This trend highlights how brand are unleashing creative content that better resonates with today's world. This include using agile cohorts of creative and analytial talent to solve customer problems and seeking new forms of external talent.
Data Section: Building the Data Infrastructure
The proliferation of channels has led to myriad sources of data. However, more is not always better, and, in some cases, what's available today won't be here tomorrow.
4. Meeting customers in a Cookieless world
Discusses how marketers should be preparing for an environment where less information will be available as third-party cookies continue to disappear.
5. Designing a human–first data experience
Designing a human–first data experience shifts the lens to consumers to better understand the balance between people finding the use of their data helpful and, well, creepy.

Experience Section: Designing dynamic experiences
The customer experience is the culmination of every step along the way. The experience section highlight how brands can bring everything together to ensure their experiences match their aspirations of delivering dynamic solutions to customers.
6. Elevating the hybrid experience
Lays out how brands can build dynamic, cohesive experiences in both their digital and in-person environments through leading principles from human-centered design.
7. Supercharging customer service with AI
Considers the consumer's perspective to show how timely offers and knowledgeable customer service can better help consumers make purchase decisions. This trend reveals how artificial intelligence can be integrated with human service to bring the best of both to the entire customer journey.
Holistic Rethinking the way brands engage with customers.
Deloitte surveyed over 1,000 global executives and they found the higher growing brands (defined as those with 10% or higher annual growth) are moving beyond point solutions and comprehensively addressing the entire customer experience – encompassing everything from activating an enterprise-wide purpose to overhauling entire customer data strategies.
Trend 1: Purpose – A beacon for Growth
How brands can gain a competitive advantage through an authentic purpose
Many organizations are redefining why they exist beyond profit- pushing them to rethink everything from product delivery to employee and community engagement.
High-growth brands are 66% more likely to see purpose as a means to guiding employee decision-making, and 41% more likely to have purpose drive the corporate social responsibility investment strategy.
Purpose is the new growth
While all brands definitely still need to deliver price and quality, these two dimensions are largely commodity features – or table stakes rather than differentiators. Other criteria, including purpose-related factors, then become competitive differentiators.
When brands know whom they are serving and what those individuals specifically care about, they can position their purpose as a competitive differentiator and, as importantly, move in the direction those consumers are expecting.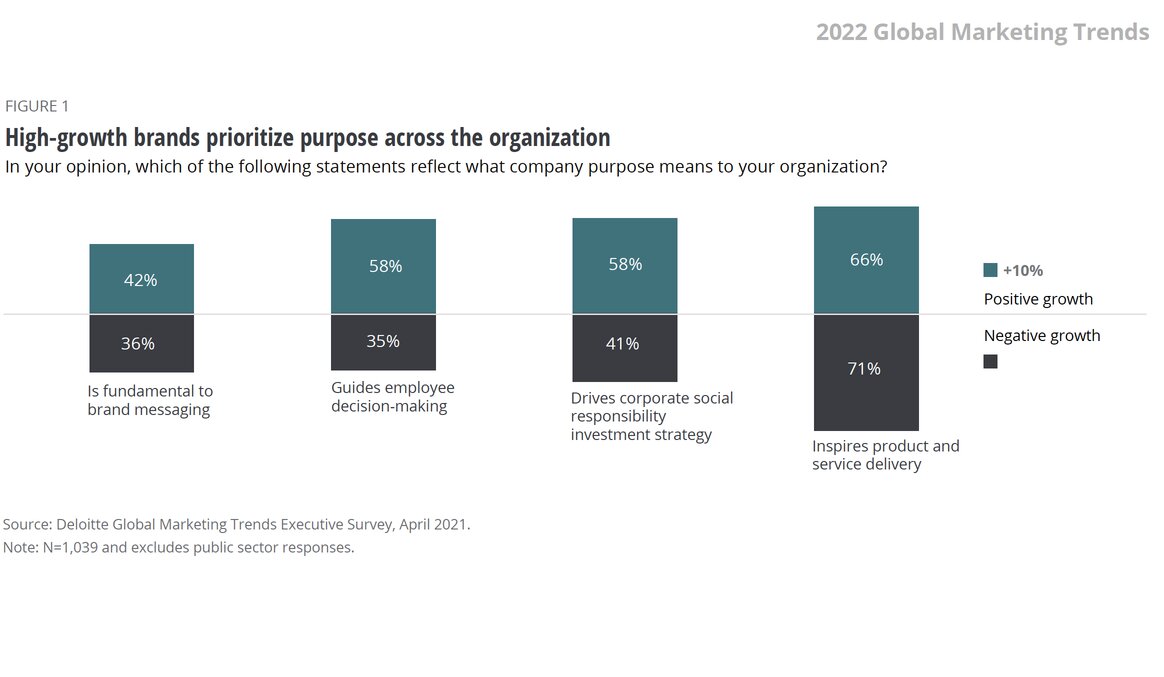 Trend 2: Authentically inclusive Marketing
Winning future customers with diversity, equity, and inclusion
While marketing function is increasingly focusing on more inclusive advertising, consumers – who are increasingly diverse – expect brands to follow through on these promises. On a given day, up to 10,000 discrete advertisements bombard consumers during their waking hours. Consumers – especially the youngest generations – are expecting more from these messages than just details about the latest seasonal sale.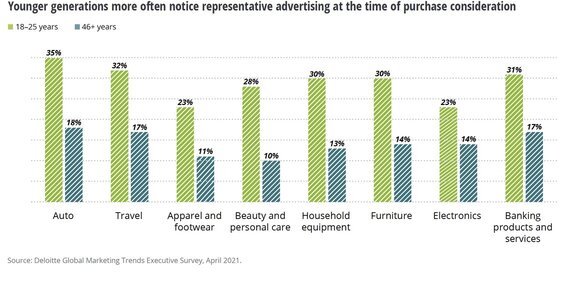 Rather, they are questioning whether a brand supports diversity and inclusion both publicly and behind the camera – and this focus is becoming increasingly important to brands as well.
On a given day, up to 10,000 discrete advertisements bombard consumers during their waking hours.
Deloitte Insight data says that high-growth brands (defined as those with annual revenue growth of 10% or more) are more frequently establishing key performance metrics for diversity, equity, and inclusion (DEI) objectives than their lower-growth competitors.
Trend 3: Building the intelligent creative engine
How unconventional talent strategies connect marketing to the customer
As data becomes more important to customer strategies, marketers are gravitating toward hiring people with more analytical skills. How do new marketing talent strategies enable this shift – while retaining the creative part?
Finding the right talent structure can be fatiguing. And every time an organization undergoes an organizational redesign that doesn't work, resistance for future change management initiatives can increase.
Instead of focusing on massive overhauls, the answer may be to make smaller, more agile changes that focus around a single objective.
Trend 4:Meeting Customers in a Cookieless world
How growth leaders are rethinking first-party data strategies
With third-party cookies systematically disappearing, how can marketing organizations use other data strategies to effectively target and engage with their customers?
61% of high-growth brands are shifting to a first-party data strategy only while 40% of negative-growth brands said the same.
While consumers may appreciate relevant ads, they also have concerns about how their personal information, purchase preferences, and browsing habits are being used. In response, regulations have tightened, and many web browsers and tech companies are disabling third-party cookies – with additional changes and restrictions anticipated down the line.
Results from deloitte's executive survey reveal that 61% of high-growth companies are shifting to a first-party data strategy, while only 40% of negative-growth company say the same.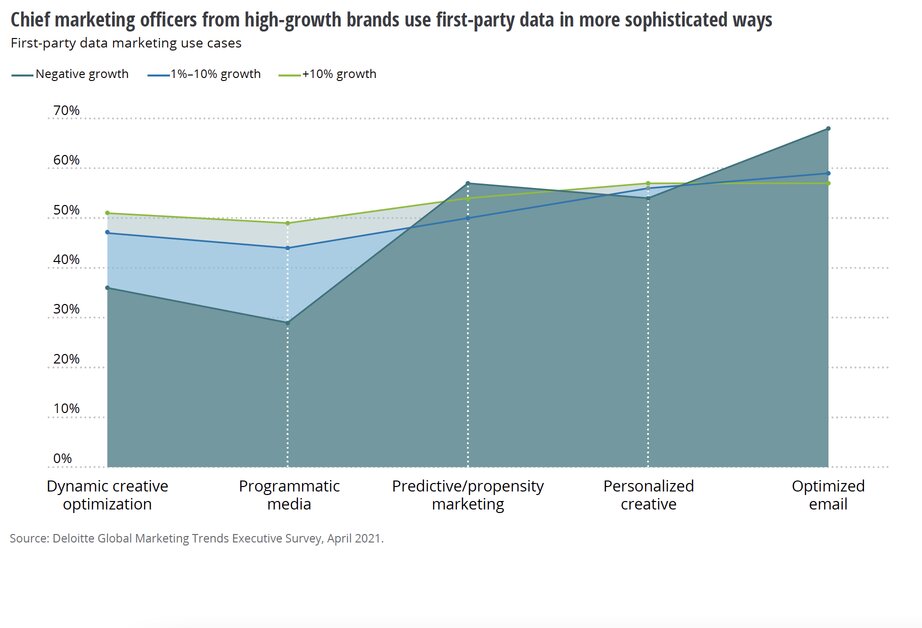 Without third-party cookies, prospecting and retargeting will most likely become less individualized. However, to establish, maintain, and deepen customer relationships, companies should reimagine how they use analytics and targeting.
Trend 5: Designing a human-first data experience
Interacting with customers – and their data – to foster trust
Marketing has traditionally used detailed customer data to improve the customer experience. But with pushback on data tracking, can the security function work with marketing to deepen customer trust?
53% of consumers said active device listening is creepy
Geo-tracking, device listening, and third-party cookie-based recommendations can create an unsettling feeling that smart technology is not just inquisitive – it's intrusive. As a result, people are increasingly rebelling against the idea of brands following their every move.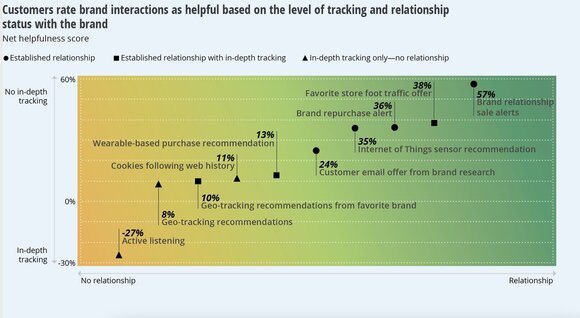 Relationships First
When brands demonstrate transparency and humanity, customers are 2.5 times more likely to provide personal information that helps improve the product, and 1.7 times more likely to feel they have received more value than expected.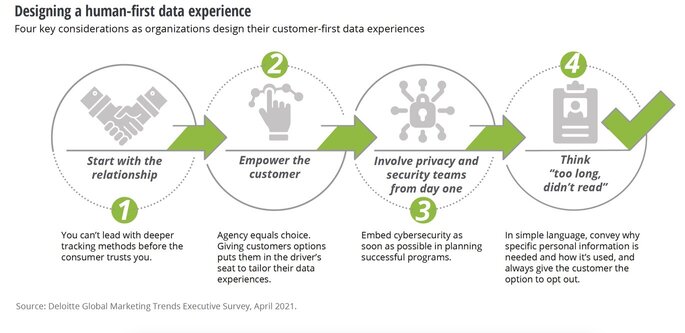 Implementing in-depth tracking is a balancing act even with an established relationship
Cultivating strong relationships starts with building trust and providing helpful data experiences that provide value – and agency to customers.
Trend 6: Elevating the hybrid experience
Human-centered design for our physical and digital environments
As brands deliver new digital experiences that meet changing customer preferences, the next step is to enhance hybrid customer experiences – and human-centered design can help.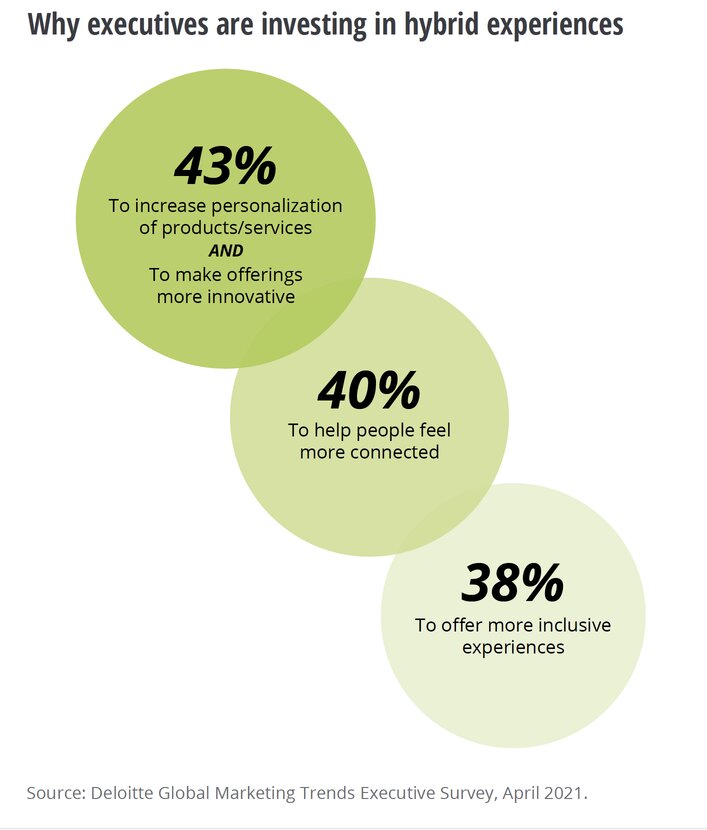 To meet the demand of elevating these experiences, it's best to start by putting the human at the forefront – and leading principles from human-centered design can help. By putting human needs at the center, involving select individuals as co-creators of the experience, and then rapidly innovating, brands can make their physical and digital experiences as agile and flexible as consumers have come to expect.
Trend 7: Supercharging customer service with AI
Reimagining AI strategies to unlock a true end-to-end customer experience

Artificial intelligence can integrate two marketing tactics – getting the right offers to customers at the right time and delivering great post-sales service – to make the customer experience even better.
A surge in digital channels and hybrid online-offline journeys along with heightened customer expectations have complicated brands' desire to create and deliver a dynamic experience that equips customers with the right information and incentives – when they need it most.
The two most helpful tactic for spurring purchases: Timely Offers and Knowledgeable customer service
Brand Marketers and customer experience leaders should be asking:
How can we get the best offer in front of our customers – when they need it most – and equip service agents with the right information to offer those customers a level of service that helps them make the purchase decisions?
Optimize artificial intelligence (AI) within the customer experience – achieving harmony between human tasks and machine capabilities
Designing a dynamic customer experience
A dynamic experience for customers means delivering the assistance and information they need, whenever, wherever, and however they want it. Designing and deploying an AI strategy that assists customers in their moment of need may be the most effective way to ensure the right offers meet customers at any point in their customer journeys.
To better appreciate the customer experience – and its potential deficits – consider these three key tasks:
Understand the experience strategy
Identify each channel and touch point along the customer journey
Make sure they're connected:
The channels and touch points should create a congruent experience for customers
Design with human-centered factors at the forefront:
Consider the entire service experience, including the customer, talent, and third-party service providers.
Need help with developing a digital strategy for your business? Get in touch.