The key to influencer marketing is the quality of an influencer's audience
The State of Influencer Marketing 2022 Report takes an in-depth look at the influence marketing industry.  It summarizes the thoughts of more than 2000 marketing agencies, brands, and other relevant professionals regarding the current state of influencer marketing. The report highlights influencers marketing benchmarks, metrics and  data about influencer marketing, makes some predictions of how industry professionals expect the industry to move over the next year and in the future.
Influencer MarketingHub surveyed over 2000 people from a range of backgrounds. 39% of the respondents considered themselves brands  (or brand representatives). 31% work at marketing agencies (including those specializing in influencer marketing), and 3% are PR agencies.  57% of respondents came from the USA, 13% Asia (APAC), 11% Europe, 5% Africa, 2% South America, and 11% described their location as other.
What is Influencer Marketing?
Influencer Marketing is a hybrid of old and new marketing tools. It takes the idea of celebrity endorsement and places it into a modern-day content-driven marketing campaign. The main differentiator in the case of influencer marketing is that the results of the campaign are collaborations between brands and influencers.
 influencer marketing doesn't just involve celebrities. Instead, it revolves around influencers, many of whom would never consider themselves famous in an offline setting.
Key Takeaways – State of Influencer Marketing 2022 Report
Influencer Marketing Expected to Grow to be worth $16.4 Billion in 2022
People initially spend considerably more time online than pre-Covid, which hasn't completely reversed despite many people returning to work. As a result, businesses had to upgrade their websites to cope with increased demand.
From a mere $1.7 billion in 2016, influencer marketing is estimated to have grown to a market size of $13.8 billion in 2021. It is expected to jump a further 19% to $16.4 billion in 2022.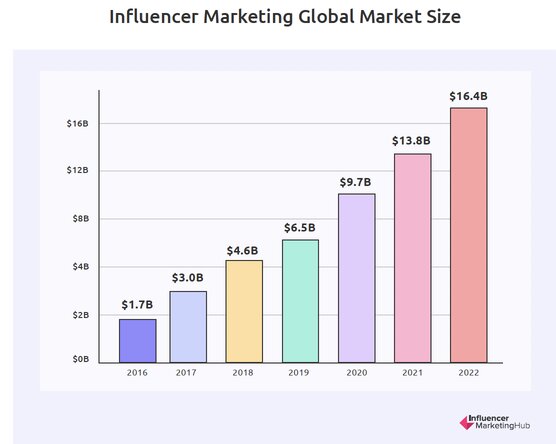 Influencer Marketing Related Services/Companies continue to grow
Influencer Marketing Related Services/Companies grew 26% in 2021, to 18,900 worldwide. Growth was highest in the United States, which saw a 30% increase in influencer agencies, platforms, and services.
Software Platforms specifically focused on the influencer marketing industry raised more than $800 Million in 2021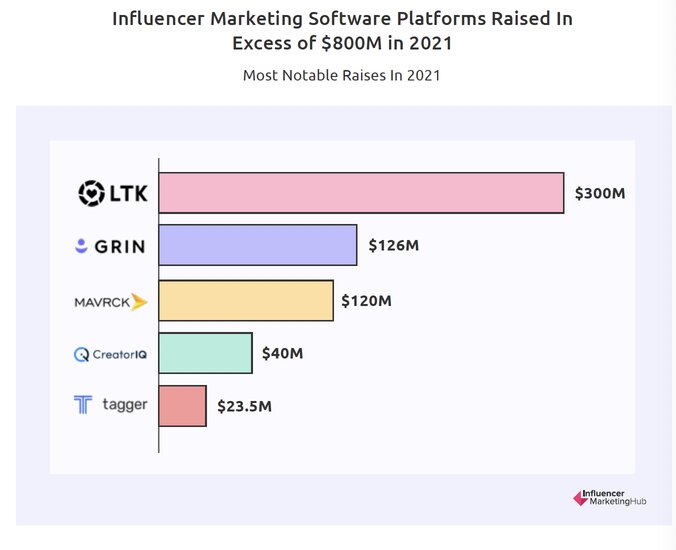 Millenials love Instagram
Data shows that the greatest lovers of instagram are people aged 25-34, followed by 18-24 year-olds. In both cases, more females than males use Instagram.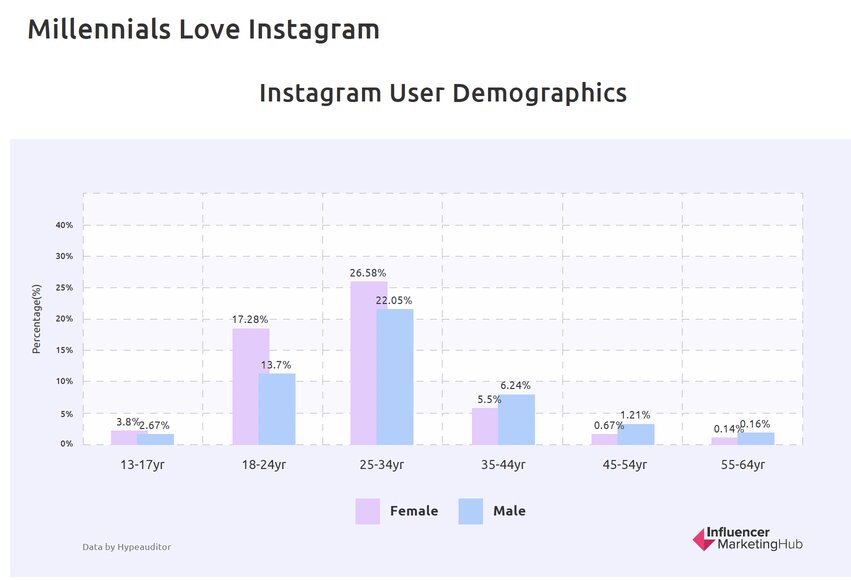 TikTok is the Epicenter of Generation Z
If you wish to market to Gen Z (females at least), you should be searching for TikTok influencers with whom to partner. On the other hand, if you sell to Baby Boomers of Generation X, you can comfortably give TikTok a miss.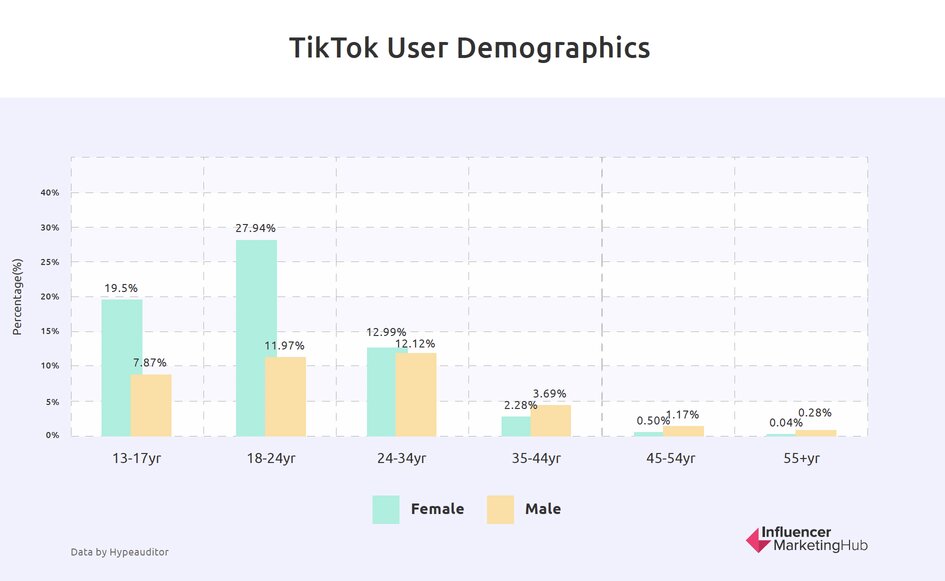 Lifestyle and Beauty Top Instagram Influencer Niches
The most common niche in which Instagram influencers posted in both 2020 and 2021 was Lifestyle.
Most mentioned brands on TikTok
Video streaming platform Netflix was the most followed brand on TikTok. If people weren't watching videos on Netflix, they were talking and making videos about what they'd streamed on TikTok.
Most mentioned brands on Youtube
The Youtube channels with the most mentions and views relate to either gaming (Steam, PlayStation, Microsoft, and Robolox) or shopping (AlliExpress, Flipkart, Shein, and Etsy).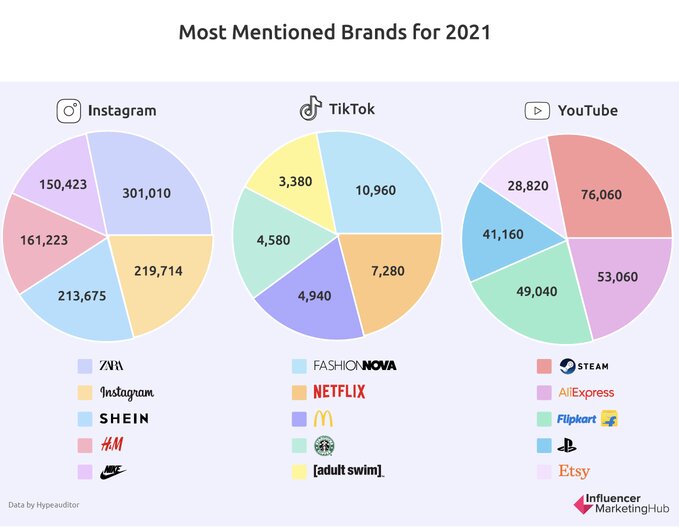 The value of Social Commerce sales in 2022 estimated to be $958 Billion
Global sales through social media platforms were estimated to be $560 billion in 2020. And social commerce sales have continued to rise at increasing rates since the, with many people now preferring to shop from home using their phones. As a result, it is estimated that the value of social commerce sales will reach $958 billion in 2022, potentially reaching $2.9 trillion by 2026.
Estimate currently place the YoY market growth of social commerce at 30.8%. By 2025, social commerce is expected to account for 17% of all eCommerce spending.
Social commerce has taken off in China, where nearly one in two internet users purchased from social networks in 2021. In just one day in October 2021, two Chinese live-streamers, Li Jiaqi and Viya, sold $3 billion worth of goods, equivalent to three times Amazon's average daily sales.
There was an estimated $51.2 billion of social commerce sales in the US in 2021, giving it a 6.9% share in the global market.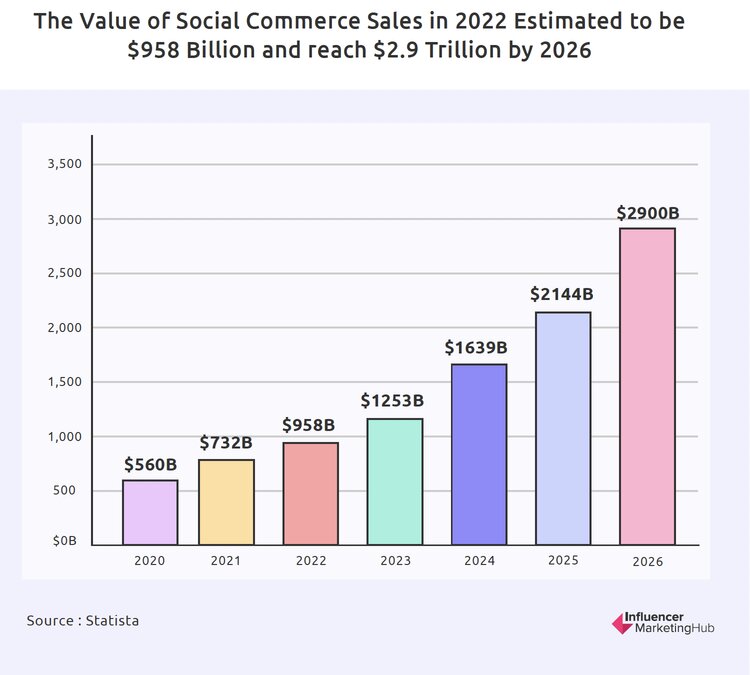 Creator Economy estimated market share $104 Billion
More than 50 million people globally now consider themselves content creators, and the market size has grown to well over $104 billion.
Although most brands spend less than $50K on influencer marketing, nearly 4% spend more than $500K
54% of the firms working with influencers operate eCommerce stores
PayPal is the most popular way to pay influencers
Instagram used by Nearly 4/5 brands who engage in influencer marketing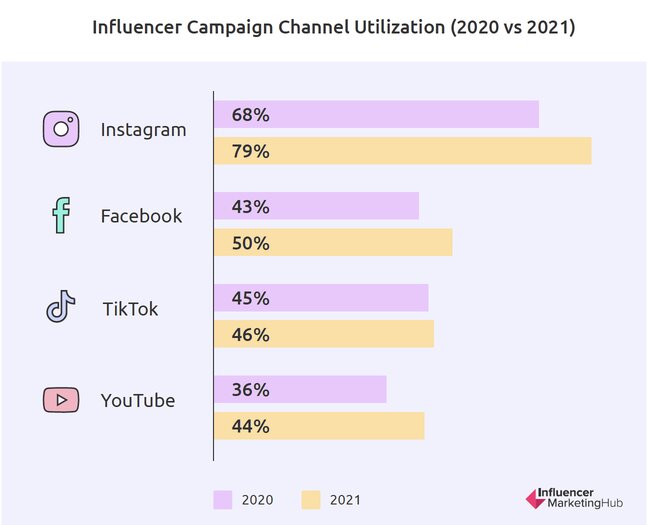 The key to a successful influencer marketing campaign is matching your brand with influencers whose fans are similar to your preferred customers and whose values match your own.
Majority believe influencer marketing can be automated, although significant numbers disagree
A contentious issue in influencer marketing is the amount of automation you can successfully use. Some people believe you can automate virtually everything from influencer selection to influencer payment. Others value the personal touch and think influencer marketing is a hands-on process.
More than 70% of respondents prefer their influencer marketing to be campaign-based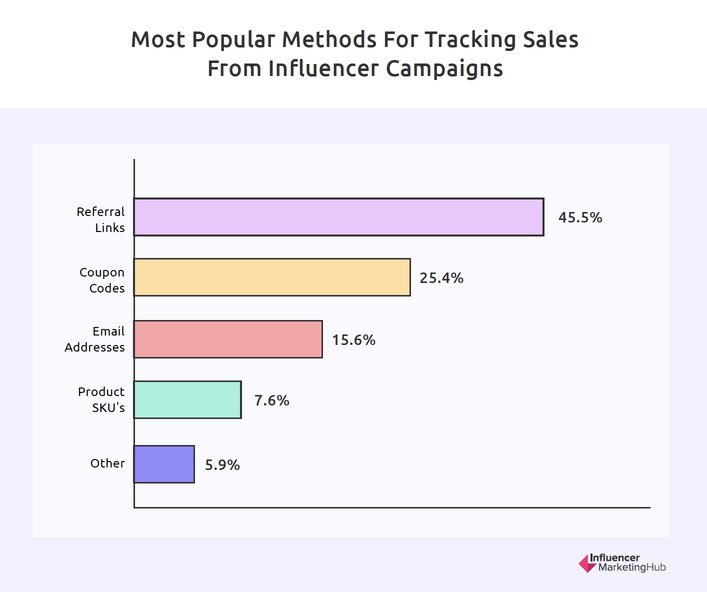 Vast majority consider influencer marketing to be a scalable tactic in their marketing ecosystem
While organic influencer marketing may be challenging to scale because of the time needed for influencer identification and wooing, there are now approximately 18,900 Influencer Marketing related services/companies worldwide that businesses can use to help scale their efforts. Many of these operate globally and accept clients from anywhere in the world.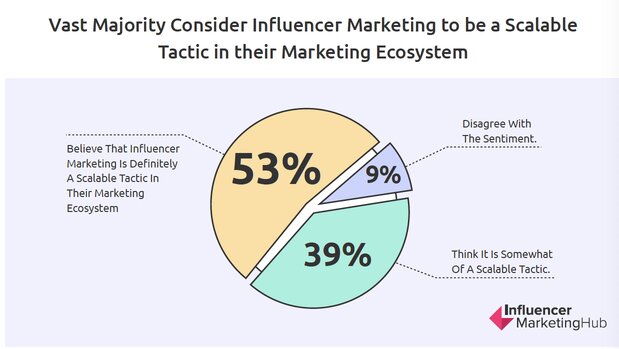 There are now approximately 18,900 Influencer Marketing related services/companies worldwide
Engagement or clicks is still the most important criteria when evaluating influencers
Most brands start their influencer search by narrowing down the possibilities to just influencers in a particular niche – a beauty brand is unlikely to work with a home improvement influencer, no matter how engaged he is with his followers.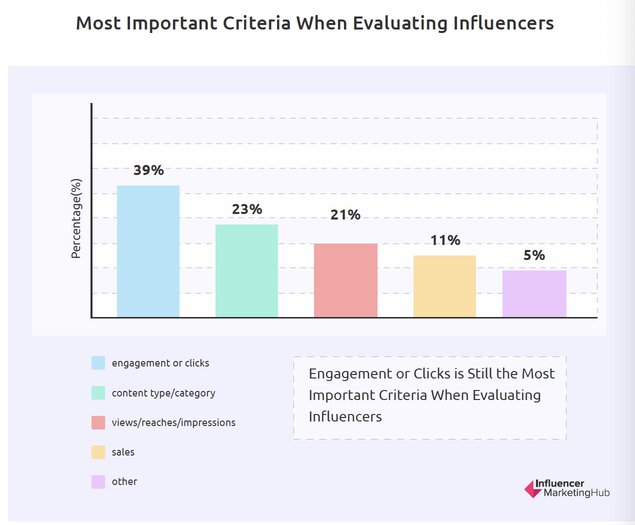 About three-quarters of brand work with fewer than 50 influencers
Quarterly campaigns are now the most used, although monthly campaigns are almost as common
Measuring ROI and campaign results is now the greatest challenge for those who run campaign in-house
Need help with developing a digital strategy for your business? Get in touch.