The GSMA Mobile Economy series is published annually at the Mobile World Congress (MWC), Barcelona. The report provides the latest insights on the state of the mobile industry worldwide and contains a range of technology, socio-economic and financial datasets, including forecasts out to 2025.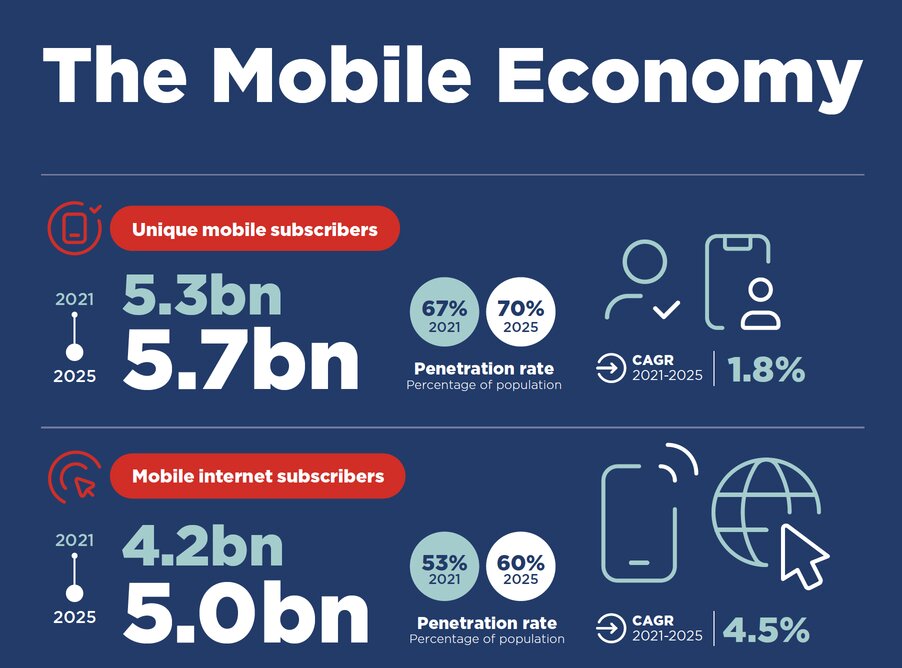 In 2021, the number of mobile internet subscribers reached 4.2 billion people globally
In 2021, the usage gap stood at 3.2 billion people, or 41% of the global population
5G
5G adoption continues to grow rapidly in pioneer markets, with the total number of connections set to reach 1 billion in 2022. By the end of 2025, 5G will account for around a quarter of total mobile connections and more than two in five people around the world will live within reach of a 5G network.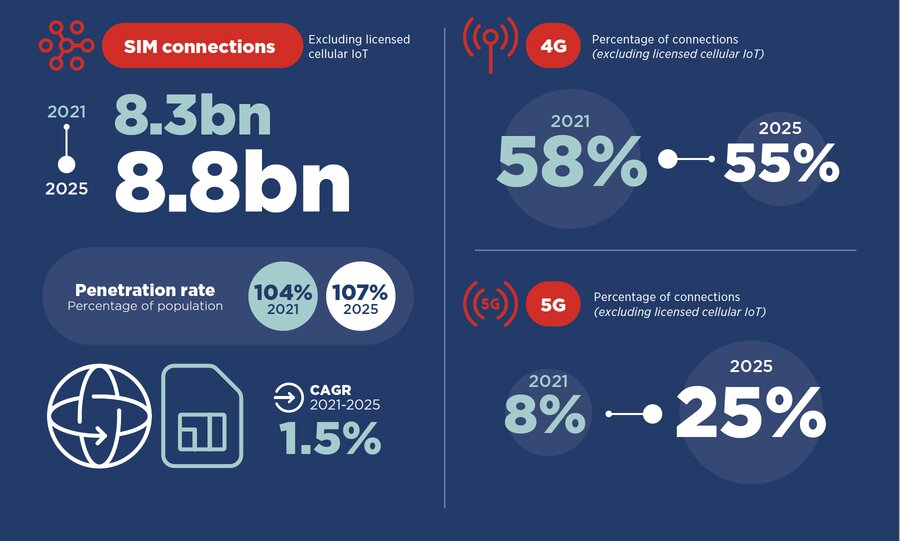 4G
4G still has room to grow in most developing markets, particularly in Sub-Saharan Africa, where 4G adoption is still below a fifth of total connections and operators are stepping up efforts to migrate existing 2G and 3G customers to 4G networks.
Globally, 4G adoption will account for 55% of total connections by 2025, down from a peak of 58% in 2021
Subscriber growth continues as mobile's contribution to the global economy grows
By the end of 2021, 5.3 billion people subscribed to mobile services, representing 67% of the global population. In a growing number of markets, most adults now own a mobile phone, meaning that future growth will come from younger populations taking out a mobile subscription for the first time.
Over the period to 2025, there will be an additional 400 million new mobile subscribers, most of them from Asia Pacific and Sub-Saharan Africa, taking the total number of subscribers to 5.7 billion (70% of the global population).
In 2021, mobile technologies and services generated $4.5 trillion of economic value added, or 5% of GDP, globally. This figure will grow by more than $400 billion by 2025 to nearly $5 trillion as countries increasingly benefit from the improvements in productivity and efficiency brought about by the increased take-up of mobile services.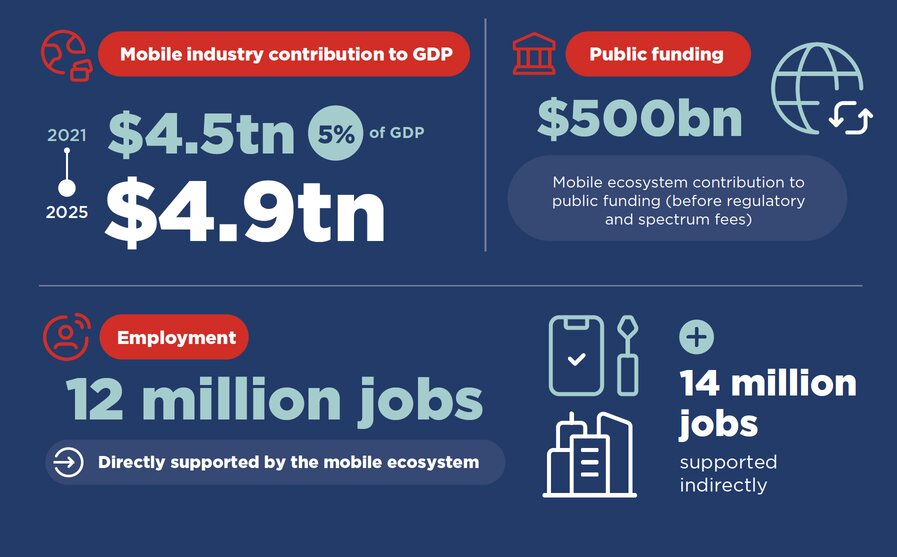 Subscriptions: mobile adoption continues to rise globally
There will be nearly 400 million new mobile subscribers by 2025; the majority will come from frontier markets in Asia Pacific and Sub-Saharan Africa

Licensed cellular IoT connections will reach 4 billion by 2025; two thirds of new connections will be in Asia Pacific
Digital consumer: smartphone adoption and data traffic continue to rise
There will be nearly 7.5 billion smartphone connections by 2025, accounting for over four in five mobile connections
Mobile data will more than triple in most regions over the next six years, driven by increasing smartphone adoption and video usage.

Mobile data traffic per smartphone (GB per month)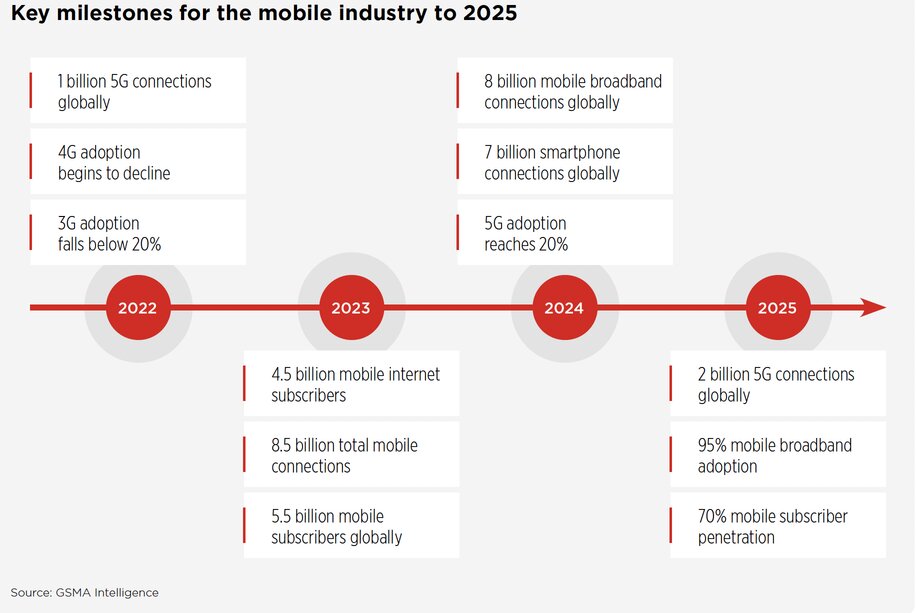 Key Trends shaping the Mobile Industry
5G becomes mainstream in pioneer markets, makes progress Elsewhere
Consumer interest in 5G is growing
5G has become mainstream in many pioneer markets (notably China, South Korea and the US) and is making considerable progress elsewhere. At the end of 2021, 176 mobile operators in 70 markets around the world had launched commercial 5G services. This includes 68 operators that offer 5G fixed wireless access (FWA) services.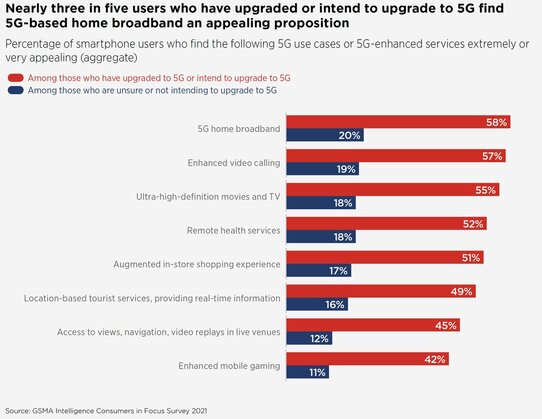 5G adoption is also rising and will reach double-digit figures this year, on average. Momentum has been boosted by a number of factors, including the economic recovery from the pandemic, rising 5G handset sales, network coverage expansions and overall marketing efforts.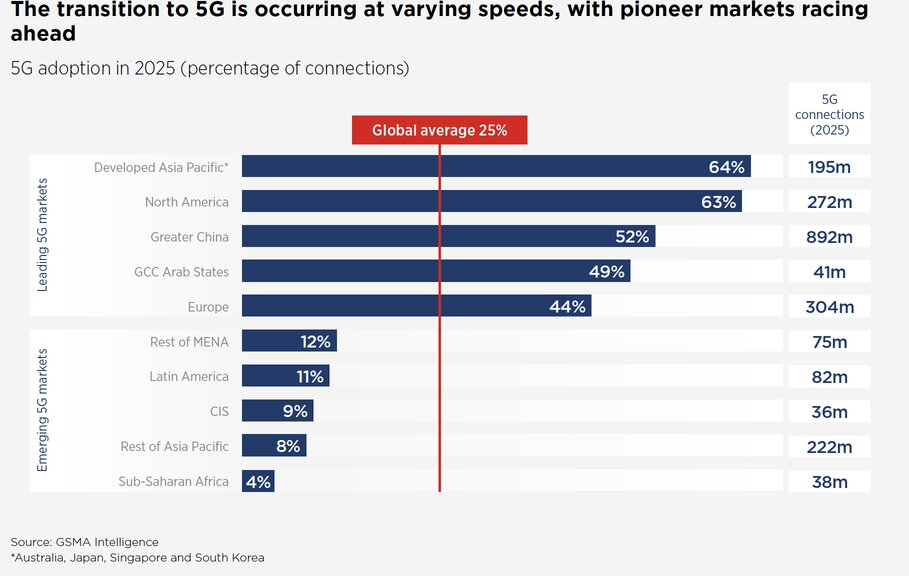 6G
Although 5G is still in its early days and the full potential of the technology is far frombeing realised, the mobile industry is already preparing for what comes next given the typical 10-year technology cycle. While 5G promises download speeds many times faster than current speeds offered by 4G LTE networks and significantly lower latency times, 6G is set to raise the bar even higher, with much faster speeds and increased bandwidth to keep consumers more connected than ever before.
Revenue growth underpins network transformation strategy
Over the past decade, operators have been under continuous pressure as their traditional value pools have gradually eroded, while network investments have continued to rise to meet increasing performance and capacity requirements. 5G rollout and commercialisation bring a new set of opportunities and challenges around capex and monetisation. This comes against the backdrop of a growing shift of economic value away from operators towards internet giants, which have leveraged new technologies and delivery models to capture a rising share of engagement and value.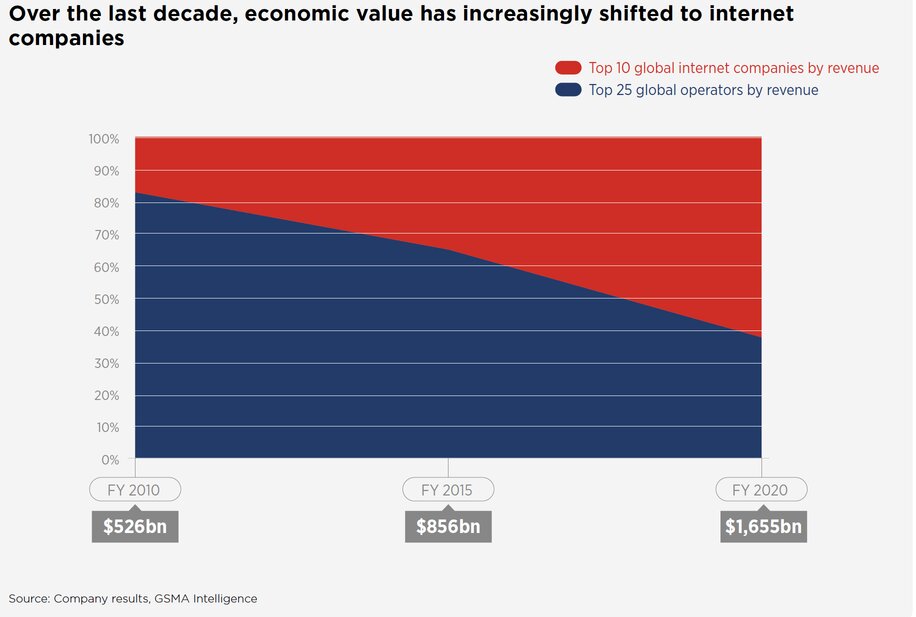 While internet giants have benefited significantly from the adoption of digital services during the pandemic, notably e-commerce and digital payments, mobile operators are offering a growing portfolio of products as part of bundled or integrated solutions. A number of operators offer consumer services (e.g. digital entertainment, financial services and commerce) via multiservice platform-based models.
Metaverse: Merging of the physical and the virtual worlds
In some quarters, the metaverse may be viewed as another hype word for augmented reality (AR) and VR. It will also undoubtedly start as a niche service, given the connectivity and device requirements. However, the momentum behind applications seeking to incorporate AR and VR with social media and the cloud is very much real. Further, several leading tech companies have outlined long-term ambitions and strategies in this space. This highlights the potential of the metaverse to attract sufficient investment and innovation to eventually hit the mass market.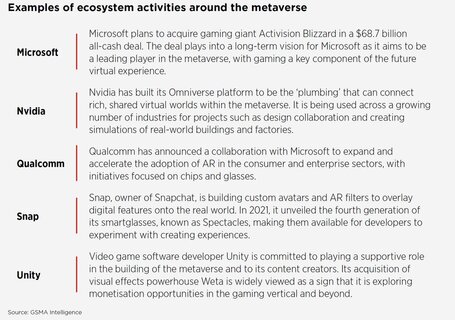 Meta (formerly Facebook) is arguably the most vocal proponent of the metaverse. The company has earmarked $10 billion, which will be employed to develop the AR/VR headsets and glasses that could provide a dominant access point to the metaverse.
Mobile contributing to economic growth and addressing social challenges
In 2021, mobile technologies and services generated 5% of global GDP, a contribution that amounted to $4.5 trillion of economic value added. The mobile ecosystem also supported approximately 26 million jobs (directly and indirectly) and made a substantial contribution to the funding of the public sector, with almost $500 billion raised through taxes on the sector.
By 2025, mobile's contribution will grow by more than $400 billion (approaching $5 trillion) as countries around the world increasingly benefit from the improvements in productivity and efficiency brought about by the increased take-up of mobile services.
The global mobile ecosystem directly generated more than $1.1 trillion of economic value in 2021, with mobile operators accounting for over half of this figure
5G alone is expected to benefit the global economy by more than $960 billion in 2030, mostly in developed regions, including East Asia and the Pacific, North America and Europe. Towards the end of the decade, other regions will also start benefiting from 5G, thanks to network deployments. 5G is expected to benefit all economic sectors of the global economy, although some industries will benefit more than others due to their ability to incorporate 5G use cases in their business.
EdTech
More than 2 billion individuals now use mobile to access educational information for themselves or their children. Growth is highest in regions where mobile is the primary and, in many cases, only form of internet access. Moreover, mobile operators are supporting edtech startups by opening up APIs to integrate their communication channels (e.g. mobile voice, SMS, USSD) and mobile money services into e-learning platforms.
Policy for Resilient Recovery: Flexible regulatory and policy frameworks

Regulatory reforms can ensure a country's digital infrastructure meets ever-expanding needs and create the conditions for digital investment and innovation to flourish. Mobile operators are facing a capex investment requirement of over $600 billion worldwide between 2022 and 2025, roughly 85% of which will be in 5G networks.
In 2021, the EU earmarked €7.5 billion for the Digital Europe programme, aimed at accelerating economic recovery and shaping Europe's digital transformation. This will be achieved by funding projects in supercomputing, AI, cybersecurity and advanced digital skills, and ensuring widespread use of digital technologies.
Need help with developing a digital strategy for your business? Get in touch.