The Hubspot Nonprofit Marketing + Fundraising Trends for 2022 is a report that highlights strategies and challenges for marketing nonprofit organizations. The report outlines the top inspirational nonmarketing campaigns for 2021 (#GivingTuesday,#WorldToiletDay, TikTok for Good), Social Media tools for NonProfits, and emerging nonprofit marketing trends for 2022.
Favorite Takeaways: Hubspot Nonprofit Marketing + Fundraising Trends for 2022:
There was a surge of first-time donors to nonprofit organizations. "Small dollar" donors contributed three times more than pre-pandemic records. Overall giving grew by 4% coming off of a year where the global economy was in a state of dormancy.
Nonprofits are Scaling with Technology
People expect all digital experiences to be mobile optimized, personalized, and engaging—nonprofit marketing teams are tasked with more than just those foundational needs. You are balancing managing email and social media campaigns, responsible for content strategies, partnering with other orgs and influencers, accepting payments online, and testing out new technologies like cryptocurrency.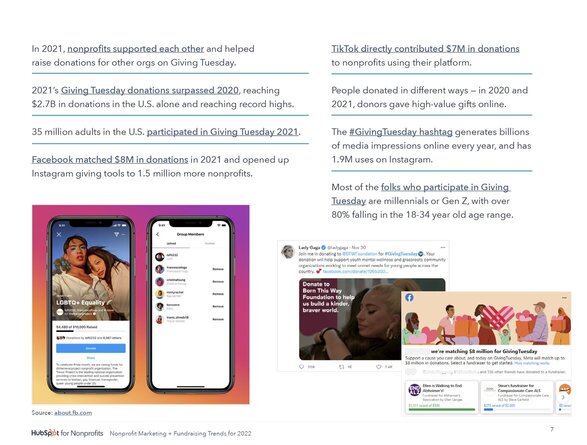 Social Media Tools for Non-Profits
Use the features that social media platforms have created to support nonprofits and your posts will be amplified. In 2021, social platforms rolled out new programs to boost nonprofit engagement and support.
Instagram and Facebook have dedicated "charitable giving tools" with donation stickers.
Instagram made it easier to fundraise with Instagram donations like live donations, clickable donation buttons in stories, main profile donate CTAs and Instagram Feed fundraisers.
In 2021, nonprofits used TikTok to grow their reach, connect with younger donors, and collect donations directly from the platform.
TikTok also added donation stickers and matched donations for nonprofit campaigns.
Twitter is testing out on-profile tipping.
Use the features that social media platforms have created to support nonprofits and your posts will be amplified.
Recommendations
Include customizable post templates for audiences to share and raise awareness.
Include educational materials and a dedicated landing page for campaign
Provide resources in multiple languages for global movements.
Use multimedia content like video to reach a wider audience
What successful nonprofit campaigns marketing campaigns look like
The most successful nonprofit campaigns in 2022 will be those that are engaging. Engaging content creates visibility on social media, starts conversations, and leads to meaningful change. Engaging nonprofit campaigns have the following in common.
Actionable
These campaigns have a clear call-to-action (CTA) and inspire, motivate, raise awareness, and get people to take the next step.
User-friendly
By meeting people where they are online and making it easy to take these actions, campaigns are more likely to generate engagement and overall interest.
Trackable
Hashtags, bit.ly links or other trackable URLs, and in-app donate buttons make CTAs more obvious and help nonprofits optimize, find more engaged audiences, and identify opportunities for future campaigns.
Nonprofit Marketing Must-Haves for 2022
In 2022, the key themes for nonprofits are building momentum, building community, and building excitement. And the ways to get there will rely on data, technology, personalization, and a deep understanding of audiences.
With millennial and Gen Z donors declaring their readiness to support nonprofits in a big way in 2020 and 2021, organizations will need to invest in campaigns to invite potential lifetime members into their communities
Here are the top Hubspot predictions for nonprofit marketing trends in 2022:
User-Generated Content
9 in 10 people value user-generated content (UGC) over branded promo emails or other content. People trust each other.
Share stories directly from the recipients of your organization's efforts. Use images, direct quotes, and authentic storytelling.
Segmentation + Personalized Campaigns
With all the data there is to collect, personalization is now a staple marketing strategy for orgs of all sizes. In 2022, segmentation and personalized campaigns will become even more targeted and help to boost engagement with audiences.
Segment campaigns all the way down to the call-to-action based on a user's age or location, past donation behaviors, and recent data. Overall, ensure your digital and mobile experiences are, at a minimum, functional, but ideally, engaging experiences for all ages.
Include options for texting donations, recurring donation programs, and donations to specific individuals or programs, so folks can see where their dollars are going. Better yet, target your communications to include preferred platforms by age range.
Provide information on gifts like whether they are tax-deductible, and follow up with donors to show the impacts of their donation using likely motivations.

Social Media Challenges
Social media challenges—which have spread rapidly since the viral ALS #IceBucketChallenge in 2014—have built-in momentum and provide an engaging way for nonprofits to gain visibility and awareness for their organization. Together, timely and well-targeted challenges have generated millions of views, likes, and dollars.
Nonprofit Partnerships
In 2021, nonprofits partnered with tech companies, local restaurants, influencers, other nonprofits, and celebrities. When choosing partners for campaigns, consider your target audience, who they respond to or follow online, and who has a personal connection to your organization.
Virtual + Hybrid Events
Nonprofits who transitioned to virtual events during the pandemic saw an increase in their fundraising goals, and 7 in 10 nonprofit event organizers said virtual events were deemed successful.
Incorporate virtual and hybrid events into event programming for 2022, then repurpose event recordings into different types of engaging content.
Community Building
Building community has always been a priority for non-profits, but now brands and apps are creating communities, too. Partner with existing communities to tap into engaged audiences. Partner with fellow nonprofits or community organizations who are aligned towards the same mission.
Accessibility
One in four individuals is a person with a disability — how does your nonprofit stack up in terms of accessibility? In nonprofit marketing, accessibility can look like:
• Including captions on videos
• Providing ASL interpreters at events
• Optimizing web content for accessibility by updating alt text and links for screen readers
• Using colors that meet Web Content Accessibility Guidelines
• Creating resources in multiple languages
• Using language and interfaces that are understandable
• Making content available on all devices
In 2022, making communication accessible for all isn't a "nice-to-have," it's a must-have.
Equity
Using donor surveys and industry data, examine how your nonprofit program can become more equitable, diverse, and inclusive. Look internally at leadership teams and the board of your organization and identify areas to include more new voices and perspectives.
Data Privacy
Ensure you have GDPR and CCPA disclosures on your website if necessary or any other local requirements.  In 2022, use SSL and secure contact management and payment platforms to collect donations.
Emerging Nonprofit Marketing Trends to Watch
These trends are on the rise and quickly gaining traction. Experiment with these campaign ideas for your nonprofit and take advantage of new trends and tactics.
Non-Fungible Tokens (NFTs)
Non-Fungible Tokens (NFTs) are unique, digital pieces of content that are valuable due to their exclusivity. Nonprofits can create NFTs and partner with artists, then host virtual auction events to raise funds and engage with donors. Or, they can accept NFTs as donations.
Cryptogiving
Organizations like Save the Children, the American Cancer Society, and No Kid Hungry are accepting cryptocurrency donations which are still tax-deductible for donors. Nonprofits can accept crypto donations using a wallet, like the Giving Block.
Mutual Aids
Nonprofits can partner with mutual aid organizations and community-based groups to source volunteers, partner with groups looking for projects, and market to groups of individuals inclined to working for the greater good.
Influencers
A UNICEF video for #WorldChildrensDay highlighting young voices and featuring Millie Bobby Brown, among other youth activists and influencers, amassed almost 1,000,000 views and hundreds of comments in just one week.
Crowdfunding
As a nonprofit, crowdfunding provides access to engaged donors and simple platforms to collect funds quickly
Text Donations
Qgiv's Generational Giving Report found that millennials' preferred method of donating to their favorite organizations is text messaging or through an app.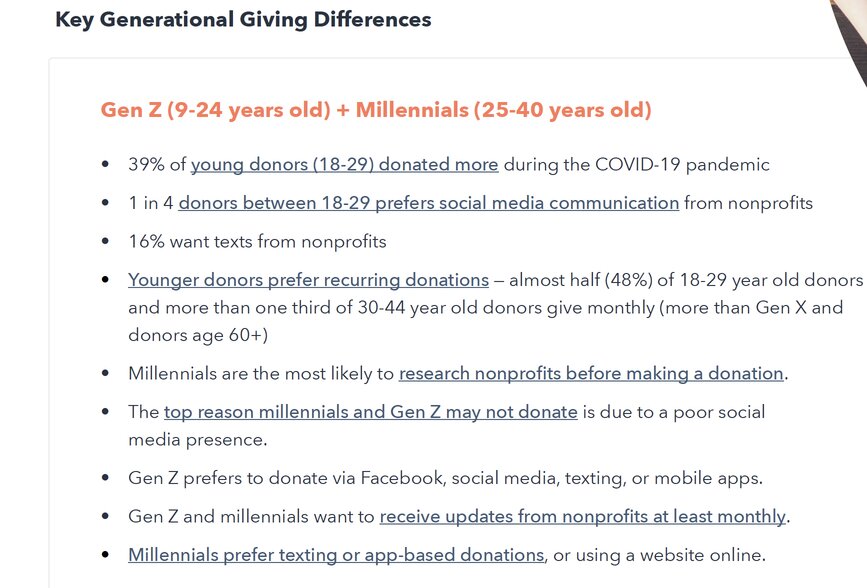 Small Dollar Donations
Small-dollar and first-time donations went up in 2021, and small-dollar donors gave 3X what they gave pre-pandemic. Test out donation request amounts and use data to guide targeted options based on a user's profile and past donation behavior.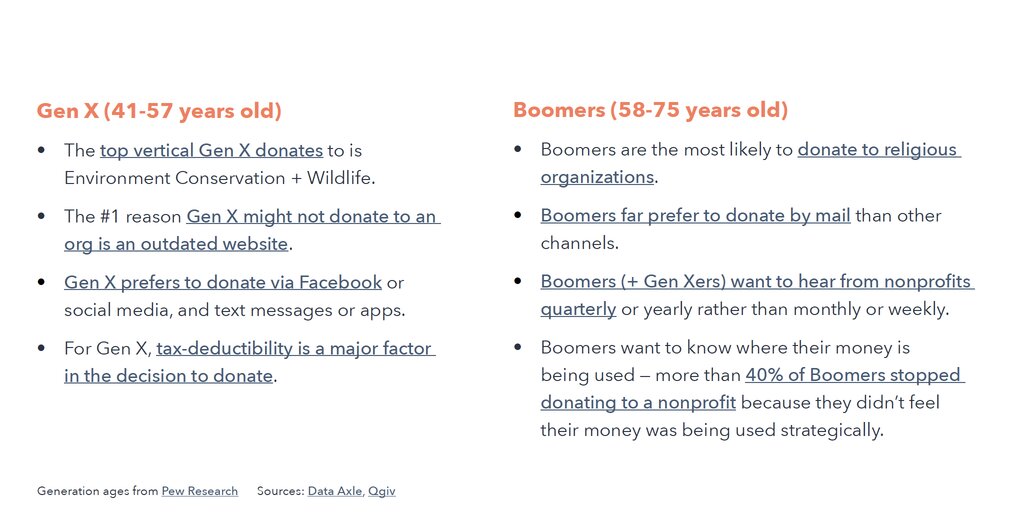 Content Marketing Strategy for Nonprofits
The right marketing tech stack and content marketing strategy can set nonprofits up for success—especially if you can integrate your content management system (CMS) with your constituent relationship manager (CRM). The wrong combination of these two critical platforms can cause headaches, waste valuable time, and leave nonprofit marketing teams feeling frustrated when their org isn't getting the visibility they deserve online.
Content marketing is the process of applying strategy to content creation, and producing videos, articles, and events that donors are searching for.
Benefits of content marketing for nonprofits include:
Better audience retention
More high-quality donors generated
Increased conversion rates
Improved search engine rankings, visibility, and brand awareness
Expanded industry authority and image of thought leadership/expertise
Dedicated, lifelong members
For nonprofit teams, content marketing relies on an understanding of the ideal audience and the tools to support fast-paced, high-quality content creation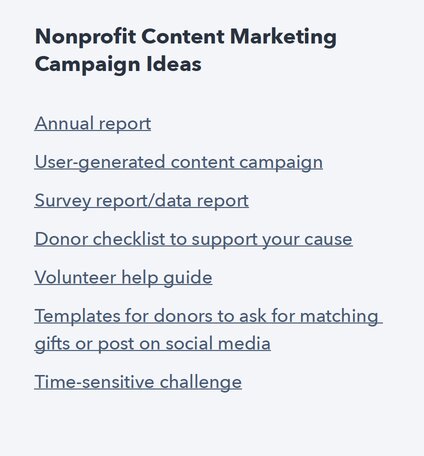 Content Planning + Strategy Recommendations for Nonprofits
When planning nonprofit marketing campaigns, pick your battles. Marketing campaigns are a big undertaking, especially for small teams.
Use inbound marketing to identify content topics to attract your ideal audience. Inbound marketing and organic growth through search engine optimization (SEO) is a low-cost way to reach wider audiences.

Strategically plan out three or four larger campaigns throughout the year and save time and resources for topical

or unexpected campaigns.
Content Creation Strategies + Tools for Nonprofit Teams
Smart Marketing Strategy #1: Repurpose Content
Turn existing content into new types of content rather than starting from scratch.
Turn blog posts into guides.
Turn podcasts into social media posts.
Turn webinars into email series.
Smart Marketing Strategy #2: Optimize Content
Review online assets like website pages, blog posts, social media profiles, landing pages, and email workflows to find places to optimize what's already working.
Smart Marketing Strategy #3: Use the Right Tools
Use tools like HubSpot for digital marketing management and Canva to create and design content marketing projects. Canva allows nonprofit marketers to create branded templates for social media, PDFs, videos, invitations, and other content campaigns, or add brand colors and logos to existing templates.
Recommended
Need help with developing a digital strategy for your business? Get in touch.