Canadian multinational e-commerce platform, Shopify recently published "The Future of Commerce Trend Report 2022".  The report is based on an in-depth analysis of exclusive survey data from businesses and consumers around the world. Shopify paired the survey with data from millions of Shopify-powered businesses globally. The result is a trends forecast with unparalleled views into the future of commerce.
Shopify's 2022 Future of Commerce report is based on data from the Shopify platform, which supports millions of Shopify merchants operating in the United States, Canada, Asia Pacific, Europe, and the Middle East.
The 2022 Future of Commerce report dives deep into three areas of commerce: eCommerce, retail, and shipping and logistics.
Future of Ecommerce
As third-party cookies are phased out, get ready to experiment with new ways to deepen direct relationships with customers like live shopping, NFTs, private communities, and VIP events.
Future of Retail
More digitally native brands will expand into physical retail than ever before, leading to a new phase of omnichannel shopping. And new consumer expectations will change retail staff into experiential hosts.
Future of Shipping and Logistics
Supply chain vulnerabilities are forcing merchants to permanently change their fulfillment strategies, and customers are demanding more transparency and ecofriendly business models. Sustainability will define the next era of shipping.
Report Methodology
Shopify paired this data with a global commissioned study conducted by Forrester Consulting on behalf of Shopify. The survey covered consumers and businesses living and operating in Australia, Canada, France, Germany, India, Italy, Japan, the Netherlands, New Zealand, the United Kingdom, and the United States.
The study included 12,000 global adult consumers who have made an online purchase in the last year, and 350 commerce strategy and decision makers at consumer packaged goods and retail companies that generate at least $500,000 in annual online revenue.
Key Takeaways from Shopify's 2022 Future of Commerce report
The only constant in commerce is change
Businesses have dealt with more change in the last two years than in the previous two decades. As a side effect, we've grown more resilient. And it's a good thing—because there's a lot more change ahead. Changes like record-high shipping costs, diminishing returns on online advertising, and a massive increase in the number of channels businesses are selling on.
Trend 1:
Rising acquisition costs force brands to foster long-term relationships with their customer Businesses strengthen customer connections by putting their brand identity front and center.
Key Takeaways
Direct-to-consumer competition is rising
Although retail business doors have reopened, ecommerce sales aren't slowing, resulting in an influx of DTC brands competing for customer attention.
Advertising costs are skyrocketing across platforms
Digital advertising costs are eating up marketing budgets, putting performance marketing–heavy customer acquisition models in jeopardy.
Brand building is helping attract and retain customers
Businesses are overcoming the competition by investing in brand building, which increases customer lifetime value, boosts 6conversion rates in the short term, and attracts out-of-market buyers in the long term.
Fewer barriers to entry mean more online retailers
Advancements in technology and the growth of available marketplaces have made it easier than ever to buy and sell online.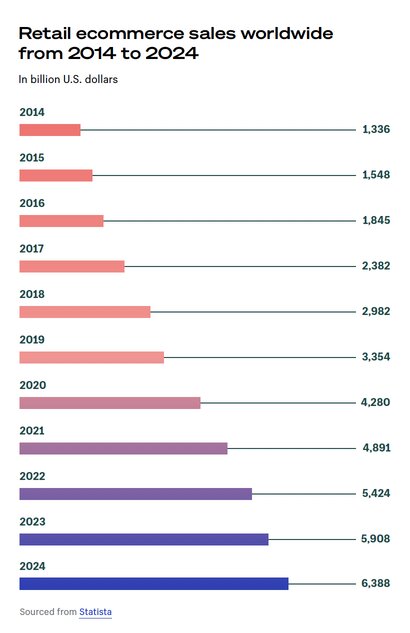 The eCommerce market is expected to grow by almost $11 trillion between 2021 and 2025.
Get ahead of the competition by investing in your brand
Marketers who want immediate, measurable results tend to undervalue brand, which is a longer-term investment. That's why 70% of marketers who are cutting their budgets in 2022 will sacrifice investments in brand building, and only 13% will reduce performance marketing spending.
 A business needs a strong brand to earn their place in the minds of consumers.
A strong brand not only makes performance marketing more effective in the short term, it's also the foundation of sustainable growth. Strong brands draw more organic acquisition, retain more customers, and can raise prices—the most powerful lever you can pull to increase profits.
As the digital space becomes more crowded, brand identity and brand awareness will only become more crucial.
RECOMMENDATIONS
How to combat rising acquisition costs in 2022
RECOMMENDATION 1: Develop a brand measurement methodology
Align brand activity with your top-level brand goals

Gather data through consumer surveys

Monitor your site and social analytics
Record changes before and after a brand campaign by measuring direct traffic, organic traffic for branded keywords, and backlinks. On social platforms, pay attention to an increase in followers, social engagement, and especially shares. Share of voice, measured across pay-per-click advertising, search engine optimization (SEO), social media, and public relations, can also be a strong predictor of market share.
RECOMMENDATION 2: Invest in both short term performance marketing and long-term brand building
RECOMMENDATION 3: Diversify your advertising and sales channels to lower the cost of acquisition
Explore new channels to reach new audiences

Consider investing in niche channels with high engagement

Don't discount tried-and-true channels

Use marketplaces as both sales and marketing channels
 Use a hero product to reach new customers, then incentivize shoppers to move to your site by creating store-only offer
RECOMMENDATION 4: Highlight your unique differentiators and values at every customer touchpoint
Show your customers you share the same values
Fifty-two percent of shoppers are more likely to purchase from a company with shared values,35 and 53% of brandsare creating products in 2022 that align with their values.
Treat your employees as a target audience for your brand
TREND 2: Death of third-party cookies forces brands to rethink personalization
Online retailers rehumanize their brands through communities, transparency, and shared values
KEY TAKEAWAYS
Consumers are demanding personalization
Consumers continue to demand personalized shopping experiences, even as regulations make data tracking harder, and the biggest players phase out support for third-party cookies.
Personalization isn't a magic bullet for customer engagement
Brands innovate with first-party data, but personalization isn't enough to create long-term relationships with customers.
Brand communities are building customer loyalty
Brand communities become key to building trust and brand equity, and improving customer retention.
Consumer behavior and privacy laws complicate personalization efforts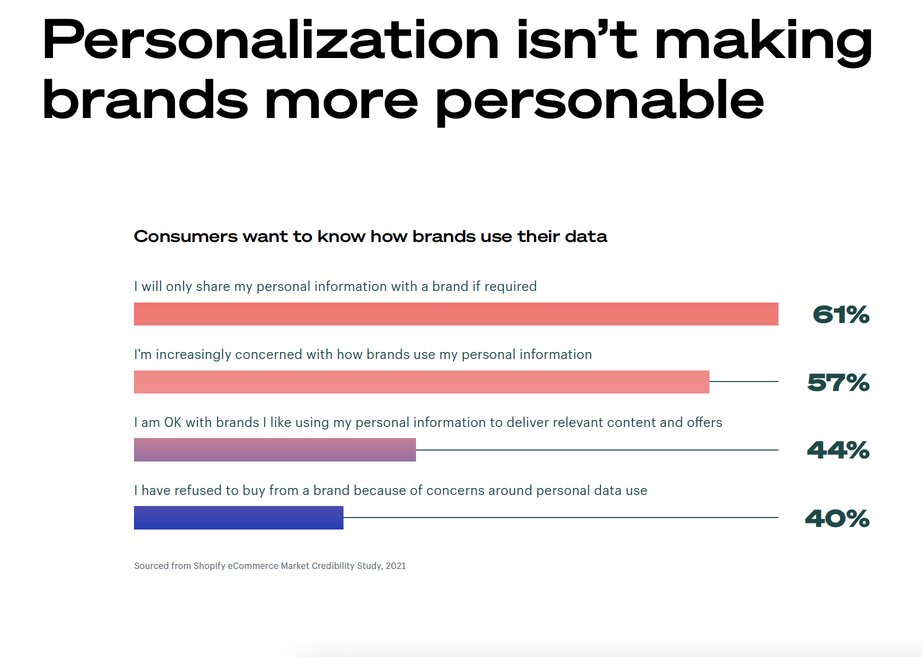 Consumers are willing to share personal information with businesses that align with their identity. If businesses want access to customer data, they need to do it in a way that builds trust.
RECOMMENDATIONS
How to build community in 2022
RECOMMENDATION 1: Invest in the right team to help your community grow

RECOMMENDATION 2:

Find ways to tie your community back to business results

RECOMMENDATION 3: Give members a clear reason to keep coming back
TREND 3: New commercial opportunities emerge on the biggest social platforms
Brands embrace experimentation to take advantage of social commerce
Key Takeaways
Ecommerce is migrating to social media platforms
Ecommerce activity is congregating on social media platforms, from brand marketing to customer service to shoppable advertising.
Social platforms are presenting new ways to engage customers
Diverse platforms and rapidly evolving features lend themselves to unique customer experiences, encouraging brands to reimagine consumer engagement.
Video is making social commerce more sociable
Video is key to unlocking the power of social commerce. Leading brands are focusing on social-first approaches like behind-the-scenes live streams, video consultations, and personalized product recommendations.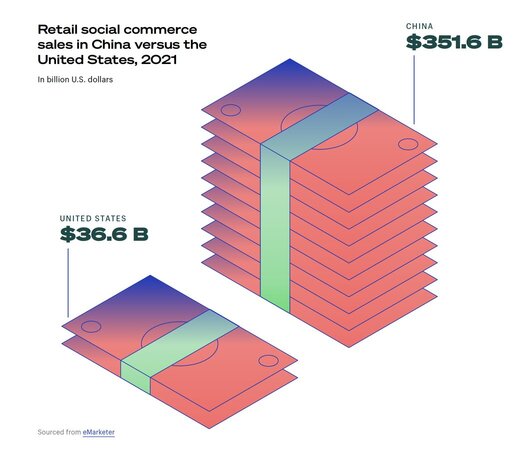 Social Commerce is on the rise
Sales through social media channels around the world are expected to nearly triple by 2025.  Although about 30% of internet users in the United States already make purchases directly within social platforms, China is the clear global leader. Almost half of China's internet users shop on social networks, generating more than 10 times the sales of the United States.
Global ad spend on social media in the third quarter of 2021 was 26% more than the same period in 2020
RECOMMENDATIONS: How to win at social commerce in 2022
Recommendation 1:

Create live commerce experiences tailored to your audience

Recommendation 2: Design a social commerce experience that converts
The Future of Retail: The retail trends, insights, and advice you need to succeed in 2022
The massive changes that 2020 brought to the retail industry are here to stay. And now that parts of the world are opening up, and consumers are craving opportunities to shop in person, they expect the buying experience to be consistent both online and off. Increased retail vacancies have created an opportunity for a new wave of digitally native brands to experiment with physical retail.
The surge of brands into offline channels means retailers must focus on creating engaging and memorable experiences to win foot traffic.
As the role of the retail store employee evolves, staff are demanding higher compensation and better working conditions. Retailers need to adapt if they want to attract and retain employees who are happy, engaged, and excited to meet customer expectations.
Trend 1: Digitally native brands drive retail competition
Merchants will prioritize experiential retail to drive foot traffic and customer loyalty
Key Takeaways
Consumers are craving in-person shopping experiences
Consumers are craving the in-person experiences they've been missing, and brands are investing in experiential retail despite the fact that it could prove logistically difficult.
Favorable lease terms are tempting direct-to-consumer brands into brick and mortar
Higher retail vacancy rates are leading to more favorable commercial lease terms that might lure digitally native brands to venture into the world of physical retail
Physical retail becomes an affordable acquisition option
Rising digital advertising costs will cause many brands to look to physical retail as a form of advertising to lower customer acquisition costs.
To stay competitive, 40% of brands said offering experiential retail would be a top priority for them in the next year, something 32% of consumers say they are likely to engage with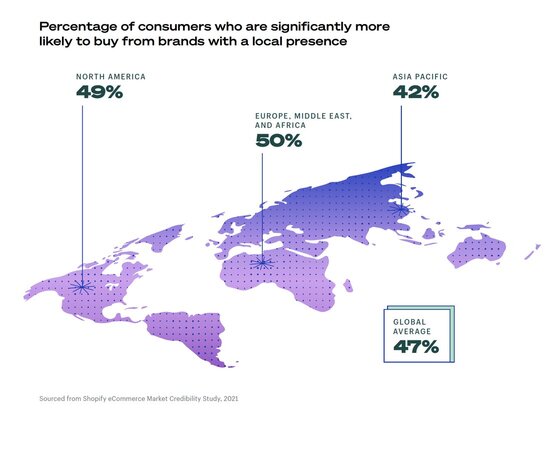 Increased competition in physical retail means brands must create unique experiences to stand out
Retail brands will need to focus on creating exceptional in-person shopping experiences to stand out, but approximately 57% of retail brands said coordinating experiential retail would be a top challenge in the coming year, especially with 95% of consumers expecting retailers to have COVID safety protocols in place for customers shopping in-store.
Digitally native brands might be at an advantage when it comes to experiential retail since they'll be building experiences as an extension of their already-established online reputation and community.
81% of Gen Z consumers in the United States prefer to shop in store to discover new products
RECOMMENDATIONS – How to create experiential moments that win over customers
Recommendation 1:  Use pop-up shops to test consumer demand for physical retail
Recommendation. 2: Invest in creating in-store experiences to build brand affinity
Recommendation 3: Use customer profiles to offer personalized recommendations
TREND 2: The post-pandemic customer journey will bring about the next phase of omnichannel shopping
Retailers must integrate in-store and online  experiences or risk extinction
Key Takeaways
Brands are staying competitive with omnichannel commerce
To stay competitive, brands must create experiences and build relationships with their customers that only omnichannel can offer.
Consumers are connecting with brands across multiple channels
Whether it's online or offline, consumer shopping expectations and buying journeys have changed and can start and end on any channel.
Consumers expect consistency across channels
To adapt to the next phase of omnichannel, brands must provide a consistent experience across channels.
Omnichannel commerce surfaces as the new normal
As shoppers return to stores, the lines between buying online and in person have blurred. Fifty-four percent of consumers say that, over the next year, they're likely to look at a product online and buy it in store, and 53% are likely to look at a product in store and buy it online.
Recommendation: How to Succeed in the next phase of omnichannel commerce
Recommendation 1: Turn your retail store into a showroom to improve brand discovery and awareness

Recommendation 2: Unify your customer and product data that provide a consistent customer experience across channels
Trend 3: Consumer and employee expectations push brands to reimaging the retail staff role
Brands that figure out staff retention will have the edge on customer retention
KEY TAKEAWAYS
Customers expect world-class service (from everyone)
Customer service expectations are higher than ever before, which means more responsibilities–and opportunities–for the role of store associate.
Brands are reimagining retail roles and compensation
Retail employees are demanding higher pay and more opportunities, so brands must reimagine the store staff role and compensation to attract and retain employees.
Technology is helping brands deliver consistent experiences
Brands are investing in employee training and technology to help staff deliver a consistent customer experience across all touchpoints.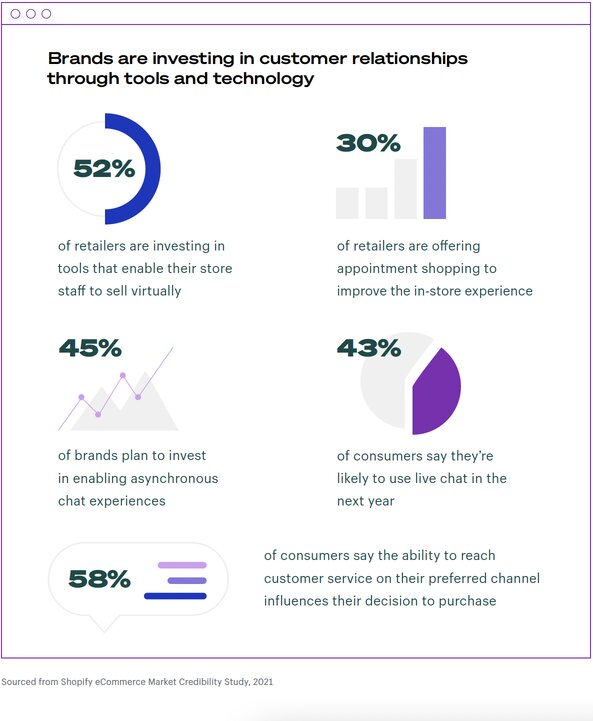 Recommendations
How to improve the employee experience and meet customer expectations
Recommendation 1: Create more specialized roles and increase compensation to match
Consider hiring virtual shopping specialists, or staff that specialize in appointment shopping—or train high performing employees in new technologies, to keep them learning and engaged.
Recommendation 2: Make sure you're providing a healthy work environment for employees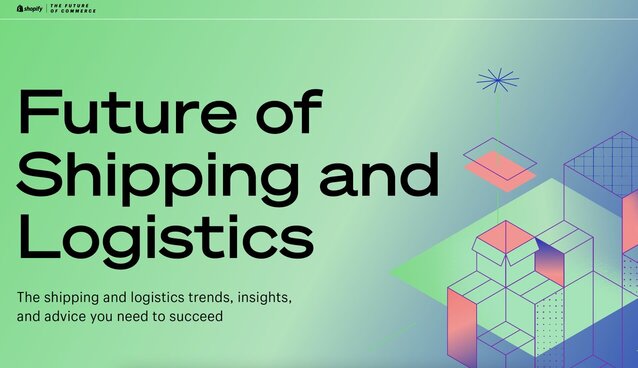 Supply chains became the most talked about aspect of commerce in the latter half of 2021. It's unlikely that production,shipping, and fulfillment challenges will abate in the months to come.
Even if they do, vulnerabilities in the global logistics networks have been exposed, and will forever change the way merchants produce, ship, and deliver products. Consumers understand these complications, but still want goods delivered fast, free, and most importantly, on time. Businesses who don't meet customer expectations are about to be left behind, as brands work to digitize their supply chains, improve transparency, and invest in sustainable business practices. These challenges require new shipping and logistics strategies to thrive.
Trend 1:
Supply chain vulnerabilities force merchants to permanently modify their fulfillment and shipping
Merchants are rethinking where their stock is, and how to get it into the hands of customers
Key Takeaways
Supply chain concerns will continue in 2022
Shipping delays, shipping costs, and manufacturing delays are the top supply chain–related concerns for businesses.
Brands are revisiting their shipping strategies
Merchants are revising their manufacturing and shipping strategies, creating opportunities to lower costs and improve customer service.
Logistics companies are building more resilient supply chains
As challenges persist over the long term, businesses will look to build resilience into their supply chains with renewed focus on digitization and decentralization
Recommendations: How to build a resilient shipping and fulfilment strategy
Recommendation 1: Digitize your supply chain to improve visibility and responsiveness
Recommendation 2: Use Data to optimize your fulfilment Strategy
Recommendation 3: Consider outsourcing your shipping and fulfillment to a 3PL
Trend 2: Social and Environmental impact will define the next era of shipping and logistics
Consumers are demanding socially conscious and environmentally sustainable businesses, with profit increasingly dependent on purpose
Key Takeaways
Consumers are seeking sustainably operated businesses
Consumer intentionality has shifted to action, as more people purchase products from sustainably operated businesses.
Brands are implementing more sustainable practices
Merchants focus on improving their sustainability, including both their environmental and social impacts.
Sustainability is improving customer and employee retention
Businesses that invest in sustainability through their supply chain will reap returns in customer and employee retention
Focusing on sustainability will ultimately position businesses for long-term growth
Consumers say they're more likely to be loyal to brands offering clear commitments to sustainability—including the conditions under which goods were made and the environmental impact of their production. This means sustainability isn't just critical to improving global environments and working conditions. It's important to make sales, and to earn and keep trust among multiple stakeholder groups.
Recommendations: how to make your supply chain more sustainable
Recommendation 1: Find ways to reduce your carbon footprint
Recommendation 2: Make product packaging recyclable, compostable, or reusable
Recommendation 3: Hold your business accountable to sustainability goals
Trend 3: Customers choose to shop with brands that are transparent around delivery times
Clear communication will help set expectations and retain new customers during a period of high distrust and data legislation changes
Key Takeaways:
Customers expect fast and free shipping
Shoppers have been conditioned to expect fast, free, on-time  delivery and will abandon their carts if it's not available.
Consumers want  access to delivery timelines at checkout
Customers say estimated delivery times are the top thing they look for before purchasing.
Brands are making shipping more transparent
Merchants plan on improving transparency into shipping and deliveries in 2022.
Keep customer service at the heart of your process
A strong and responsive customer service team should sit at the heart of the experience. This helps connect the dots among expectations, merchant promises, and the vast system of order and inventory management happening behind the scenes. Chatbots can support your team, but at the end of the day, you'll need to have real people who are capable of proactively responding to— and resolving—issues like unexpected shipping delays.
Need help with developing a digital strategy for your business? Get in touch.